twice (2001 and 2002), and currently several breeders have dogs that come from those two litters.

A couple of Dutch dogs was imported in the early 2000s. These dogs produced a number of litters, and through their offspring are present in many current pedigrees.

Also in the beginning of the 2000's a breeder from São Paulo (Maria Eugênia Sahagoff) imported 3 Marchwind dogs from the U.S., including the Group placing Am. Ch. Johma Denver of Marchwind, and a bitch bred to Top Producer Am. Ch. Sonata's How The West Was Won. She bred a few litters and is not active anymore. Rumor has it that after the first few litters she neutered all her dogs, but unfortunately I could never talk directly to her, although I did try. Nevertheless her bloodline is present in many Brazilian breeding programs.

Another beautiful Italian Greyhound that came from Germany to Brazil is German & Brazilian Ch. Harlekin Al Akash owned by our friends Dirk Vogt-Lahr and Alessandro Lahr who live in São Paulo, Brazil. He has had outstanding results, and is the sire of our Dora and grandsire of our Am. Ch. PePa.

There are other breeders, in 2011, 146 IG's were registered in Brazil.
How are IG's called in Brazil?
The official name of the breed in Brazil is Pequeno Lebrel Italiano, the translation to Portuguese of the Italian name, Piccolo Levriero Italiano. Nevertheless many people refer to the breed as Italian Greyhounds, or "Galguinhos" meaning "little sighthounds".
How do you describe the Italian Greyhounds?
IG's are extremely affectionate little dogs with an elegant shape built for running. They were originally bred to be hunting dogs, but with the small manageable size we believe from the beginning they were also selected to be home companions.
What is the greatest challenge of the IG breeder?
This is a breed with a small gene pool worldwide and that does have genetic problems -- as all breeds do. It is not an easy one. Like Shelties for instance, there is quite a large number of types within the breed, and it is common to have different types in one litter -- even if it is linebred. Actually to our surprise we have found out that some outcrosses usually produce more homogeneous litters than linebreeding. Of course some breeders (including Angie Leonard, of Anji IGs) have pointed out that in our breed there is no "true" outcross: all dogs worldwide come from basically the same few ancestors.
In terms of conformation the biggest challenge is to produce a very sound yet refined and small dog. This is a sighthound: good movement is a must. A strong rear, front, with good angulations, producing a powerful yet also graceful movement is required. This is the big challenge. It is easier to get one that is sound but also too big, for instance. Others are extremelly refined, but have a poor rear and don't move with the reach and drive you want. The outline is again the most important feature of the breed, you can even see an "S" in the outline of some dogs. Other dogs are heart shaped: you see a "C" instead of an "S". Some dogs are too refined, a few others could be even described as coarse. The balance is what every serious breeder wants: a dog with excellent structure that is also refined. Of course above any conformation characteristic the most important thing is to keep an eye on health.
Size also varies considerably in this breed, right?
Yes, the AKC standard describes the IG height range from 13 inches to 15 inches. The FCI standard calls for 32cm to 38cm. As this is a small dog, this range can be considered to be huge. In reality it is very easy to see dogs that are smaller and bigger than what is called for in the standards. This is true everywhere in the world. Don't think big dogs are only in the U.S. We have seen them in Asia, Europe and South America too. Actually it is very common to have both big and small even in one litter.
Can you mention some characteristics unique to this breed?
I feel the most particular characteristic of IGs is their love to sleep with their owners. They will sleep inside the covers, the first time you see that behavior you get the impression the dog will suffocate, but rest assured they have done that for centuries!
IG movement is also very particular. They are high gaited dogs, but do not have hackney movement. How is IG movement different from a hackney gait? It is high stepping, but with definite forward movement and drive from the rear. That's what distinguishes IG movement from a hackney gait.
Do you have any maintenance tips?
Their short coat and neat habits make IGs low maintenance pets in terms of coat care. Nevertheless teeth does require brushing at least once every two days, and once a year by the vet. Please be sure the vet employs anesthesia that is safe for sighthounds! IGs also have fast growing nails, that require a once a week maintenance
Are IG's healthy? Are they fragile?
Again there is not a direct and easy answer to this question. Yes they are healthy. Many IGs get to 15 years or even more in pretty good shape. However you only need to look and touch the legs of an IG to notice they are thin and long. This together with a flighty temperament, and powerful athletic ability, can result in nasty accidents. Some IGs may jump up to 1,5 meters, about 5 feet, without any impulse. They are standing, and then they are flying. They also have a reserved temperament, and if something frightens them they will suddenly jump and run.
Thus fractures of those thin and long legs do happen. We definitely do not recommend IGs to people with very active young kids or big dogs at home. One must be very careful with high verandas and open windows. A fracture results in expensive vet bills and a truly difficult period (until it heals) for both dog and human. If the owner is very careful most probably there won't be accidents. Nevertheless it is important to be prepared, even before you buy an IG.
How do you describe IG color?
IG color is a fascinating subject, and it is not easy to describe! Let's start with blue. Blue dogs come in many shades, from pale mouse grey, to dark steel blue. Blue comes with black nose, not like dilutes of some other breeds that come with blue nose. Then you have fawn. Fawn dogs also come in a wide variety of shades, from a very pale cream to dark nearly brownish dogs, in between you have those that have a golden, corkish or reddish hue. If a blue dog has a few fawn hairs, the color does not have any special name. Nevertheless if the dog is fawn with enough blue hairs that give a distinctive shade, then the color is called blue-fawn. The most popular color in the U.S. today is red, which also comes in many shades, from a clear Basenji-like clear red, to darker hues, including mahogany and even darker. Then there is black. Some dogs are jet-black, but others have a few fawn or red hairs. If there are just a few hairs of another color, the dog is overall still black. However, if the dog has a lot of red or fawn hairs all over its body, then the resulting color is called seal, it looks like chocolate, but it is not because the nose is black. Red and fawn may also have black hairs: if the amount of black hair is big enough then you have sable. Another characteristic is that dogs start getting whitish at a very young age, some may get white hairs on their face from the tender age of 12 months. Although the FCI standard only accepts dogs with white markings in the feet and chest, there are solid white IGs, and parti colored dogs, with the distinctive Irish markings (neck and legs), wild-Irish (Irish with white splashes in the body), and pied, which are mostly white dogs with a few colored spots, usually in the head.
What do you think about the FCI color restriction that only allows white on feet and chest?
This color restriction was established by the Marchesa Maria Luisa Incontri (Calcioni IG's) at the beginning of the second half of XX century. The FCI has as a rule to have the native country dictate the breed standard.
Were IG's always solid colored? Who is going to answer is Marcelli Bacciarelli, who painted the following picture in 1757: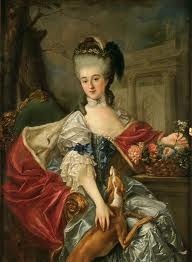 One may say: "this is for sure a Whippet!" Right? Wrong: the Whippet started to be developed in England in the XIX century. There is no doubt that the dog above is a red and white Italian Greyhound, as pure as they could be in XVIII century. There are many, many other pictorial evidence that IG's with white markings have always existed.
The situation is quite complex, as breeders from Continental Europe have selected dogs according to the solid color criteria for about 80 years now. It is not possible to simply accept that IG's may be also particolor. Talking with several breeders from all over the world, what seems to be a possible solution is to accept a second color variety, that while preserving the work of solid colored breeders, would also allow the gorgeous particolored Italian Greyhounds to be shown all over the world (not competing with the solid colored ones for BOB, though).
You can use this information, but if you do please make sure you refer to www.canildoreino.com.br