Ch. J. Gr. Ch. Br./Pan. Ch. Int.
Logos My Blue Heaven
Am. Ch. Logo's Ransomed in Glory X Am. Ch. Logo's Down to the River to Pray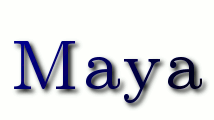 Multi-Group First Winner
Text in English follows text in Portuguese in italics.
Photos by Marco Flavio Botelho and Ju Xavier
<!img src="MayaJu2a.jpg"><!RETIREI ESTA FOTO!!! VOLTAR QUANDO FOR FAZER AS PAGINAS DE FOTOS!!!>
Maya é de criação de Sherry Phillips, Logos IG's, Tennessee, EUA. Por muitos anos nós admiramos os cães e a criação de Sherry, não apenas em fotos, mas em ocasiões em que pudemos ver seus cães em pista nos EUA. Não é difícil ficar impressionado com a qualidade de cães como estes. Apesar de que muitos dos seus cães terem marcações brancas, que não são admitidas no padrão FCI, Sherry tem tido grande sucesso na criação e exposição de cães de cores sólidas, tais como o cão vencedor tanto da Nacional americana de 2009 como da Mundial FCI (México) Ch. Logos Walking In The Light.
Maya was bred by Sherry Phillips, Logos IG's, Tennessee, USA. For several years we have admired the beauty and the quality of Sherry's dogs. When I attended the IGCA National Specialty in 2000, her dogs made a deep impression on me, of course it is not very hard to get impressed with dogs such as these.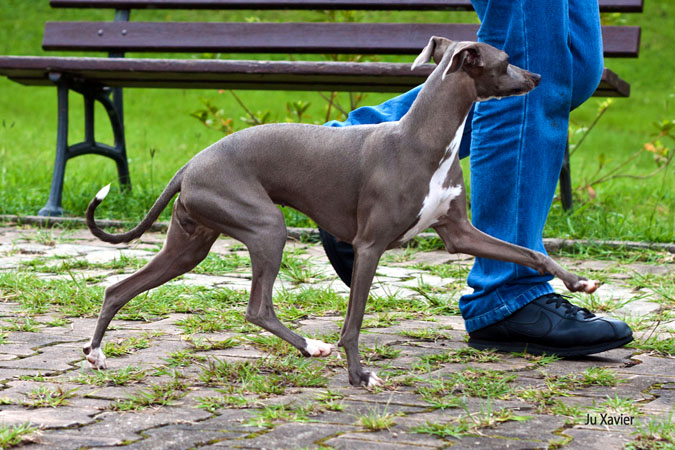 Maya é uma galguinha sólida azul, de espetacular movimentação, estrutura e temperamento. No Brasil tem sido exposta de forma limitada, sempre pelos seus proprietários.
Despite the fact that many of Sherry's dogs have those flashy white markings not allowed by the FCI, Sherry has been breeding and showing solid colored dogs with great success, such as the 2009 National Specialty BISS and FCI World Ch. Logos Walking In The Light. Maya is a solid blue IG girl with beautiful structure, temperament, and movement.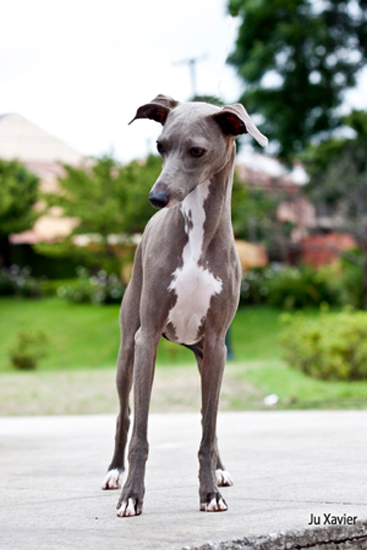 Não podemos de deixar de destacar e agradecer as belíssimas fotos da Maya foram tiradas pela jovem artista Ju Xavier, visite em Arlequin Design.

The first picture in this page was taken by Marco Flavio Botelho. The other were taken by young Brazilian photographer Ju Xavier, in the Web visit at Arlequin Design.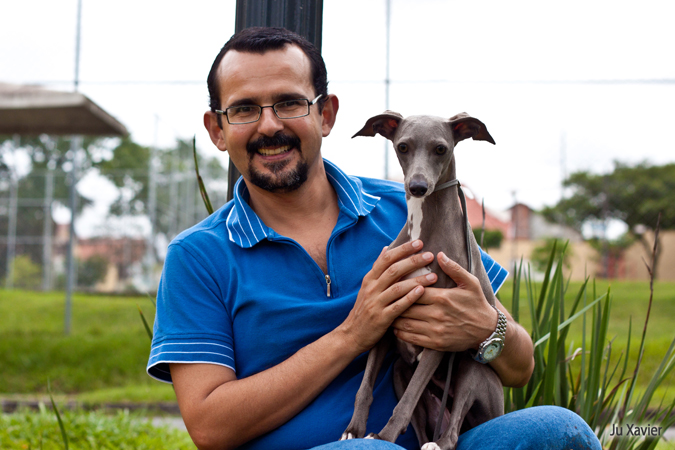 Ch. Logo's My Blue Heaven (2009)
<!**************************** SIRE *************************>
Ch. Logos Ransomed In Glory
Ch. Logos Bought At A Price
Ch. Dasa's On The Road Again
Ch. Dasa's King of the Mountain
Kahira Blackeyed Susan
Ch. Uwharrie Tender Is The Night
Ch. Cana Hora Do The Right Thing
Tr. Ch. Uwharrie Bluhaven Newsflash
Ch. Logos Speaking In Tongues
Ch. Logos Prayer Of Jabez
Ch. Logos Bought At A Price
Ch. Logos Toss the Scarlet Cord
Ch. Logos Embraced By The Light
Ch. Mira Red Sails At Night
Ch. Uwharrie Tender Is The Night
<!**************************** DAM *************************>
Ch. Logos Down to the River to Pray
Ch. Logos Walks on Water
Ch. Logos He Chose The Nails
Ch. Logos A Nail In a Sure Place
Winsomlogos Return To Cinder
Ch. Logos Crown of Thorns
Ch. Dasa's On The Road Again
Ch. Uwharrie Tender Is The Night
Azygous Dance With Me
Ch. Donmar River Dance
Ch. Uwharrie's Red Rain
BIS Ch. Donmar's Scarlet Ribbons
Ch. Logos A Day of Rest
Ch. Dasa's On The Road Again
Ch. Vision Spontaneous Combustion