J. Ch. Ch. Viola da Paulinha do Durindana
Ch. Ch. Pan. Gr. Ch. Crown Jewell's Armani X Ch. Ini. Gr. Ch. Gr. Ch. Pan. Ch. Int. Ara do Durindana



Multi-Group Winner, Jovem (Junior) BIS Placer
Text in English follows text in Portuguese in italics.
Photos by Ju Xavier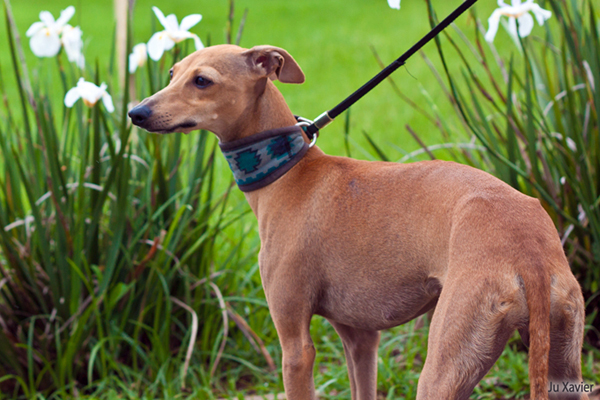 Ola ficou em co-propriedade conosco de 6 de agosto de 2010 a 1o de outubro de 2011. Neste período Ola fechou tanto o jovem como o campeonato brasileiro, vencendo vários grupos e se classificando em BIS Jovem em duas ocasiões. Ola nasceu em 13 de janeiro de 2010 e é de criação e propriedade de Dinorah Messemberg, sendo filha da galguinha creme, vencedora de múltiplos grupos inclusive KCSP, Ch. Ini. Gr. Ch. Br. Pan. Ch. Int. Ara do Durindana. É neta do nosso Baldo.

Ola was born on January 13, 2010, and from August 6, 2010 to October 1, 2011, she lived at Canil do Reino in co-ownership with us. During this time she has finished both her junior and Brazilian championships. She won several groups, and placed in Junior-BIS twice. Her dam, the cream bitch multi-group winner (including KC São Paulo), Braz. Pan. Grand Ch. Int. Ch. Ara do Durindana, is a grandauther of our Baldo.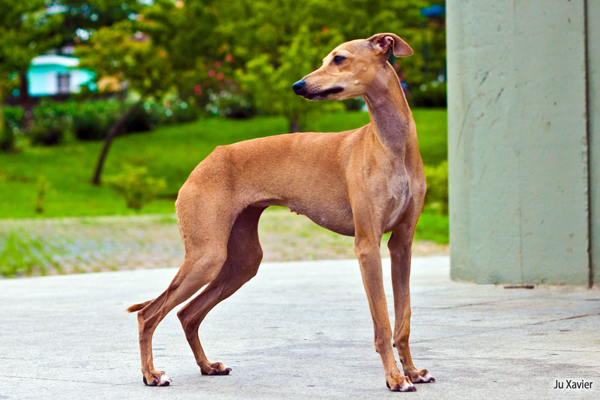 Ola é uma galguinha que carrega em seu pedigree uma boa parte da história da raça neste país. Ela descende em 7 gerações dos primeiros Italian Greyhounds que eu vi em maio de 1981, em uma exposição em Belo Horizonte. Aqueles dois cães eram de propriedade do Dr. Marcelo Andrade Neves, do Canil Van Mark. Seus nomes eram Ch. Paiga's The Jimini e Ch. Mike-Mar's Royal Blue, e são bisavós da cadela Sumainana Cleopatra, que por sua vez é bisavó da Ola.

We say that Ola carries the history of the breed in Brazil in her pedigree. She is a decendant in the 7th consecutive generation from the first IG's I saw in my life at a dog show in Belo Horizonte in May 1981: Ch. Paiga's The Jimini e Ch. Mike-Mar's Royal Blue, imported from the US with the assistance of Flávio Werneck by owner Dr. Marcelo Andrade Neves (Van Mark IG's).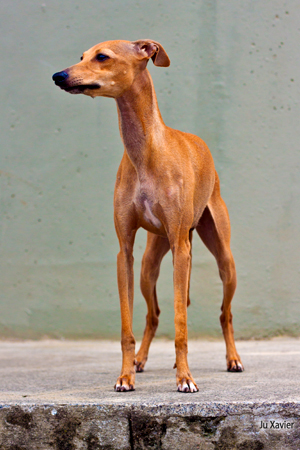 O pai da Ola é o belíssimo cão Ch. Ch. Pan. Gr. Ch. Crown Jewell's Armani, de propriedade de Carlos Fortes, de São Paulo. Armani foi IG #1 do ranking CBKC em 2003. Ele é de criação de Maria Eugenia Sahagoff, que no começo do século trouxe 3 galguinhos dos EUA para o Brasil, inclusive o cão com múltiplas colocações em grupo nos EUA, Am. Ch. Johma Denver of Marchwind, pai do Armani, avô da Ola.

Ola's sire is a lovely red dog, Brazilian Grand Ch. Crown Jewell's Armani, owned by Carlos Fortes, São Paulo, Brazil. Armani was #1 IG in Brazil in 2003, CBKC ranking. He is a son of the US group placer Am. Ch. Johma Denver of Marchwind, in turn a son of the lovely Am. Ch. Bo-Bett's Peter Platinum.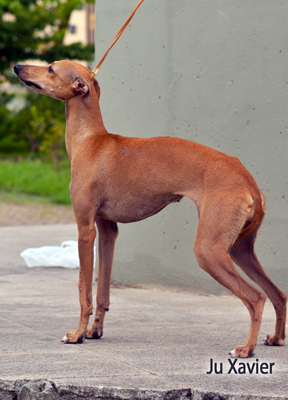 Não podemos de deixar de destacar e agradecer as belíssimas fotos da Ola foram tiradas pela jovem artista Ju Xavier, visite em Arlequin Design.

These very nice pictures of Ola were taken by young Brazilian photographer Ju Xavier, in the Web visit at Arlequin Design.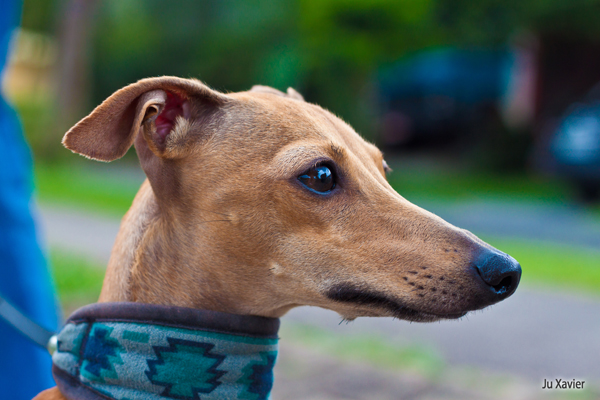 Pedigree: Ch. Viola da Paulinha do Durindana (2010)
<!**************************** SIRE *************************>
Ch. Crown Jewell's Armani
Ch. Johma Denver of Marchwind
Ch. Bo-Bett's Peter Platinum
BIS Am. Ch. Tekoneva's Dario
Ch. Windriver Ruby Tuesday
Ch. Mira Colorado
Ch. Mira Time After Time
Mira Hello Sunshine
Marchwind Shackett's Diane
RT's Sr. Skyler Smokey High
Ch. Mira Desert Sky of Hi Dez
Miss Geena Mia of Hi Dez
Ch. Marchwind Queen Anne's Lace
Ch. Justa Awesome
BIS Am. Ch. Marchwind Call In Concert
<!**************************** DAM *************************>
Ch. Ara do Durindana
Land of Angels Gucci
Buba's Miguel Rompe Nuvem
Antonucci Leal Maximus Canis
Eschweiller Grey Diane
Land of Angels Chanel
My Ceasar's Own Gino
Fiefoerniek's Foreign Affair
Sumainana Grey Hebe
Ch. La Scala Eribaldo do Condado
Ch. Pikop's Tic Toc Piaget
Ch. Musica Proibita Di La Scala
Sumainana Cleopatra
Felipe Don Cozzolino
Erika de VanMark