---
L a S c a l a I t a l i a n G r e y h o u n d s: H i s t o r y
L i l i a n & D o n B a r b e r
---
Multi-BISS Ch. Voici Azzurra Di La Scala
Carmine Burana Di La Scala X Ch. Philli Blue Velvet, 2006
- B E L L E -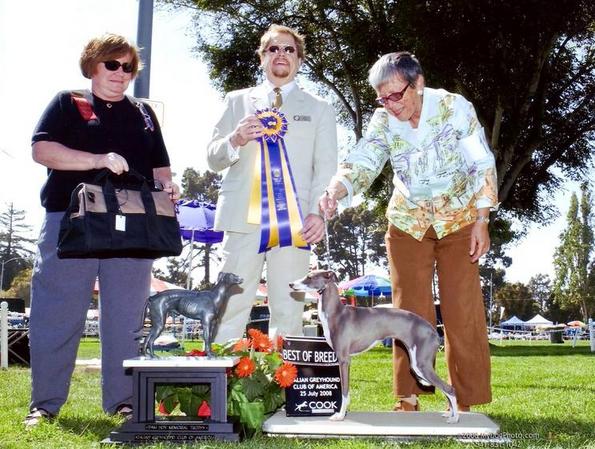 Belle was bred by Layle Griffioen, Voici IG's, and she is an 8th generation La Scala straight without interruptions from our first IG, Davette's Tina Carlotta, CD: Tina -> Alfredo -> La Traviata -> Ballatella -> Olympia -> Venere Splende -> Carmine Burana -> Belle. Belle's dam is the lovely Top Producer Ch. Philli Blue Velvet, foundation bitch of Layle's successful breeding program. Her sire (Carmine Burana Di La Scala) was a Venus son sold to Texas and was bred for the first time when he was 8 years old. This breeding resulted in two more champions besides Belle: brother Ch. Voici Thief of Hearts, and sister Ch. Voici Velvet Shadow, the latter Best In Sweepstakes at the 2007 IGCA National Specialty.
Belle was very successful in the show rings, a Top Twenty IG in 2009, she has multi-group placements and won Best In Show Specialty twice, with first class competition. She was BISS at the Northern California Specialty in 2007 from the Bred by Exhibitor class under sighthound specialist judge David Miller. Her second BISS is the one from the picture above, taken in 2008, awarded by breeder-judge Rick Weyrich., Belle was always owner handled.
Belle was bred once to Ryan (Ch. Amore's Royal Stargazer) and has a champion son from that litter that finished with a group placement: Ch. La Scala L'Ultima Evviva D'Coccolare, owned by Linda Kennedy, Coccolare IG's.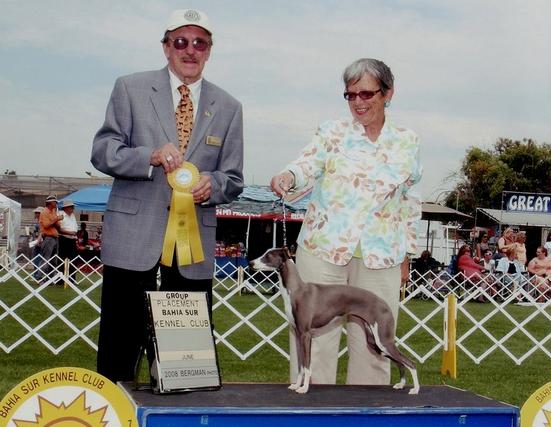 <!**************************** SIRE *************************>
Carmine Burana Di La Scala
Ch. Bo-Bett's Hello Gorgeous
Ch. Tekoneva's Dario
Ch. Winsapphire Borsalino
Ch. Tekoneva's Alegria
Bo-Bett's Baby Breath
Ch. Oxdal's Fascinatin' Fella
Ch. Zebec Zia
Ch. Venere Splende Di La Scala
Ch. Littleluv's Superman, CD
Sempre's Kathy's Clown
Ch. Millstone Silver Charisma
Ch. Olympia Di La Scala
Ch. Tucker Texas Terror
Ch. Ballatella Di La Scala
<!**************************** DAM *************************>
Ch. Philli Blue Velvet
Ch. Philli Duke of Earl
Am. Can. Ch. Supremo Majesty of Philli
Ch. Coyan Allen-Adale
Ch. Twin Acres Angeli of Wilnbri
Ch. Windriver Holly Berry
Ch. Flagstone Stock Option, UD
Ch. Piacere's Song Sung Blue
Ch. Rohan Merry Little Zephir
Ch. Rohan Little Red Scooter
Ch. Winsapphire Dimitri Debo
Ch. Pashtun's Private Dancer
Ch. Rohan Little Breeze
Ch. Dasa's Little Rock
Ch. Woodwind Chelsea Morning