---
L a &nbsp S c a l a &nbsp I t a l i a n &nbsp G r e y h o u n d s: &nbsp H i s t o r y
L i l i a n &nbsp & &nbsp D o n &nbsp B a r b e r
---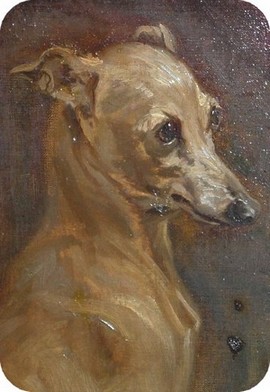 The portrait on the left is from the XIX century and was painted by Robert Alexander, Royal Scottish Academy 1878-1888. Tina, the very first La Scala Italian Greyhound, could have posed for this portrait except that it was done nearly 100 years before she was born: Tina - Davette's Tina Carlotta, CD (1965)
The very first La Scala champion was born in Tina's first litter: Figaro - Ch. Bravo Figaro Di La Scala, CD (1967)
Tina was bred two more times, and produced the first champion bitches for Lilian: Smiley - Ch. La Gioconda Di La Scala (1967), Ch. Windswift Sari Di La Scala, plus an obedience champion: Silvio Silverfish Di La Scala, CD. Another girl was not a champion but was the dam of 2 Top Producers, Windswift Scat Di La Scala. Then there was Alfie, the most important of all of Tina's offspring, he is behind all current La Scala dogs: Alfie - Amami Alfredo Di La Scala (1968).
The sire of Tina's second and third litters was Ch. San Dan Nero Of Hi Skyes, and until the 1970's both Tina (3 champions) and Nero (5 champions) qualified as Top Producers.
Nero also sired another of La Scala's early champions: Kelly - Ch. La Dolce Vita Di La Scala (1970), out of Candy - Wavecrest Lady in Ermine (1967), whom Lilian had high hopes to become a foundation bitch, but unfortunately this did not happen.
What did happen is almost unbelievable: Lilian was able to locate and get one of Alfie's daughers out of a bitch mostly of the Leorra bloodlines. That puppy was Nova - Ch. La Traviata Di La Scala(1973) - and the rest is history.
...
Soon after Lilian acquired Nova, she made a trip to New York to attend the Westminster show in person for the first time (1973). There she met Paula Hutchinson, Sylhue IG's, with whom Lilian had been corresponding for some time. Paula was one of the top breeders at that time. Lilian was very impressed with the Sylhue dogs, and eventually she was able to acquire the pick girl of one of Paula's most expected litters, that is Speedy - Ch. Sylhue Maid of Virtue (1974).
Both Nova and Speedy were bred right at the time or after Lilian and Don moved from San Francisco to Southern California, Lilian could keep only one dauther of each, both born in 1977:
It is difficult to overestimate the influence of Sylhue in Lilian's breeding program in the early 1970's. Besides having a Sylhue bitch (Speedy) and another bitch by a Sylhue sire (April by Ch. Sylhue Passkey) Lilian also owned the #8 sire of Italian Greyhound champions of all time in US: Paradigm - Ch. Sylhue Paradigm (1972).
Besides Paradigm, Lilian also owned Top Producer Ch. Kreszenz Cobra Jet (1975) later in his life. He was actually the third older male champion she adopted. The first was Ch. Padre Dorian Joh-Cyn (you can find more information about him in Candy & Kelly's page).
...
Domino was bred to Cobra Jet to produce Canio - Ch. Canio Di La Scala (1982). Canio appears behind quite a large number of current Italian Greyhounds, mainly through his daughter Ch. Colombeta Di La Scala, Top Producer(1986) and her grandson Ch. Ferazi Ringmaster (Top Producer). At La Scala Canio was bred to Crissi - Ch. Marca's Cristina Di La Scala (1979) and produced two champions. Lilian also kept the Canio daughter Red - Ch. T-Ann Queen Of Hearts, the very first red La Scala IG, out of whom she kept DJ - Ch. Dick Johnson Di La Scala (1987).
Top Producer Ch. Colombeta Di La Scala (1986) by Canio is the synthesis of Lilian's first 2 decades as a breeder. She was a foundation bitch for Jutta Kulic, Ferazi IG's. Lilian owned one of her daughters, Rivet - Ch. La Scala Rosina Di Ferazi (1989), out of which she also kept one daughter (by Tony, more about him below): Zipper - Ch. Turandot Di La Scala II (1991). Rivet produced three American Champions for Lilian, and is twice behind International Champion Madame Mona Lisa Medici, one of Gabriel Vadez (Da Vinci IGs) foundation bitches.
...
April (Ballatella) was bred once to Top Producer Ch. Tucker's Texas Terror and three puppies finished their championships: Ashley - Ch. Olympia Di La Scala (1983), Ch. Don Giovani Di La Scala, and Ch. Tucker's Don Carlo Di La Scala. She was then bred to Top Producer Ch. Krezsenz Cobra Jet and Ch. La Divina Di La Scala (1981) came from this litter. La Divina is the dam of one of the Top Producers bred by La Scala: Percy, Ch. Parsifal Di La Scala, Top Producer (1984), sired by Paradigm.
Ashley (Olympia) was bred twice, and one of her daughters is the IG Lilian considers to be the best she bred: Venus - Ch. Venere Splende Di La Scala (1989).
Venus was bred 4 times, and produced 4 champions out of those litters, but Lilian says several more could have finished were their owners interested in showing them. One of those unshown Venus kids was Carmine Burana Di La Scala, who sired a single litter, from which came a string of champions, including the 2011 IGCA National Specialty BISS Ch. Voici Where There's Smoke There's Fire, and Lilian's Belle - Multi-BISS Ch. Voici Azzurra Di La Scala (2006), both bred by Layle Griffioen, Voici IGs.
Lilian kept two Venus daugthers, both champions: Heidi - Ch. La Scala Donna Non Vidi Mai (1994) (by Ch. Andiamo Di La Scala), and Junie - Ch. Musica Proibita Di La Scala (1993) by Tony (more about him below).
Junie produced Baldo - Braz. GCh. FCI Int. Ch. La Scala Eribaldo do Condado (2000) a Top Producer that had a deep influence on IG's in Brazil, grandsire of Lilian's PePa - Am. Ch. Peonya do BR Reino (2011), herself the dam of Bidu - Am. Ch. La Scala Prima Donna do Reino (2015).
...
Lilian considers Tony - Ch. La Scala Il Leone Di Tucker (1990), Top Producer sire of 20 champions, to be the IG she bred with the most outstanding contribution.
Tony's dam -- Candy - Ch. Tucker's Candy Apple (1986), was bred by Leon Tucker, but one of her grandsires was a La Scala dog: Ch. Tucker's Don Carlo Di La Scala, and the other grandsire was a dog Lilian had owned: Top Producer, Ch. Sylhue Paradigm.
Tony's full sister Carmella (Ch. La Scala Leontyne Di Tucker) was one of Yvonne Morgan's (Laguna IG's) foundation bitches, and produced two generations of Laguna's BIS All Breeds winners, including the lovely Lillie - BIS Ch. Laguna La Scala Heart Afire, dam of Cio Cio - Ch. La Scala Laguna Un Bel Di (1998).
Cio Cio was the dam of La Scala girls: Gioia - Ch. Gioia Di La Scala (2002) and Jazzie - La Scala All That Classical (2005). Jazzie was Reserve Winners Bitch from the 6 to 9 puppy class out of 70 bitches under Anne Rogers Clark at the IGCA National Specialty in 2005.
Tony is a Top Producer that sired Top Producers, including Ryan - Ch. Amore's Royal Stargazer (1997), owned by Lilian and bred by V. Jeannie Love, Amore IG's.
Ryan, Gioia and Belle are the grandparents of Diva - Ch. La Scala Stasera Canto D'Coccolare (2011), owned and bred by Lilian and Linda Kennedy, Coccolare IG's. Diva herself is the dam of Cara - La Scala Vissi D'Amore (2016).<! out of Ch. Pikop's... //the very last litter Lilian bred.>
...
Sandy was a key La Scala foundation bitch, and Tony's perfect match at La Scala. Lilian had a lot of fun showing this striking red and white girl with wonderful temperament. Sandy mated to Tony produced three beauties for Lilian: Aria - Ch. Aria D'Amore Di La Scala, CD, Top Producer, Angel - Ch. Ch. La Scala Angelica Di Belini, and Bailey - Send In The Clowns Di La Scala, AKC pointed (all three born in 1997).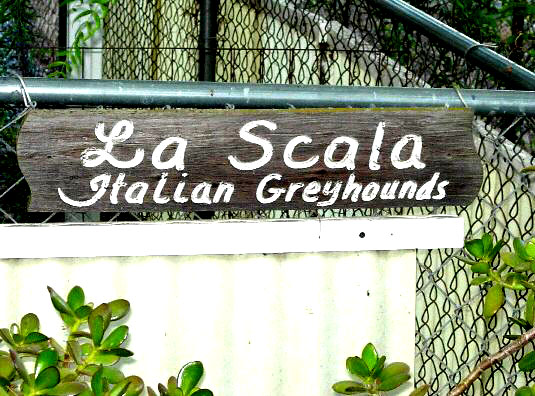 Angel was owned by Lilian's lifelong friend Belina Lazzar (Belini IGs) and when bred to Am. Sw. Norw. Ch. Artmeis C'est Si Bon produced Simon - U.K. Am. Ch. Artmeis Simone Di La Scala (2003) , owned by Jo Amsel (Artmeis IG's, UK). Simon was the #1 Toy stud dog in the U.K. both in 2010 and 2011 - in 2011 he was a Top 10 sire of all breeds.
Simon is in turn the sire of Mimi - Bronze GCh. La Scala Mimi d'Regallust-Voici (2012) a group placer, multi-BoB winner in tough Soutern California competition.
Aria, is the dam of two La Scala girls: the gorgeous multi group placer Renata - Ch. Lovesong La Scala Serenata (2001) and ZuZu - Ch. Lovesong La Scala Zuzana (2004), herself the dam of Monte - Ch. La Scala Piedzzicato (2008) by Lilian's British boy Basil - Taraday Basilio L'Inglese (2004).
Aria is also the dam of Vico - Braz. Ch. Lovesong Vico Di La Scala (2003) who is five generations behind the 3 siblings that are winning in 3 continents: Bidu - Ch. La Scala Primadonna do Reino (2015) has 8 majors and multiple BoBs in the US, Graf - La Scala Graf do Reino (2015) is a group placer in Russia, and Peter - Braz. Ch. La Scala O Guarani do Reino (2015) is a champion with multiple group placements in Brazil.

---
[Home] | [Who Are We?] | [The Dogs] | [History] | [IG FAQ] | [Articles] | [The Book]
---
Web Design © Elias P. Duarte Jr.