---
L a S c a l a I t a l i a n G r e y h o u n d s: H i s t o r y
L i l i a n & D o n B a r b e r
---
U.K. Am. Ch. Artmeis Simone Di La Scala
Am. Sw. Norw. Ch. Artmeis C'est Si Bon X Am. Ch. La Scala Angelica Di Belini, 2003
- S I M O N -

For more pictures and information: please visit Simon's web page at Artmeis & Rilloby IG's web site!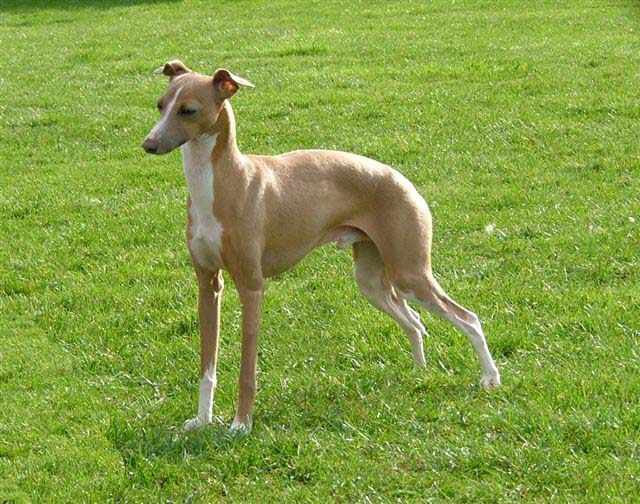 News from the British Dog World, January 2012: "HEADING the Toy Group [Stud Dog] ranking for the second year running, and this time in Top 10 All Breeds, is the Italian Greyhound Ch/Am Ch Artmeis Simone di La Scala, imported by Jo Amsel from Don and Lilian Barber in the US. He is by a dog Jo bred, Ch/Am/Sw/Norw Ch Artmeis C'est Si Bon, ex Am Ch La Scala Angelica Di Belini. His CC winners of 2011 are Ch Florita Tipitina, sister (Ch) Florita Tarantella, (Ch) Artmeis Kaaliya, (Ch) Rilloby Head Over Heels, (Ch) Toerag Out Of The Question, Gemolli Joie De Vivre and Littlebriton Crimson Kiss."
Simon has been having great success in the U.K.:

Simon's first Champion was Ch Rilloby Gentle Persuasion, bred by Pat Spencer who won a Gp 2 and a Gp 4 ( Simon x Chrisford Final Edition by Rilloby). Her litter brother Rilloby Head Over Heels also gained his titled and was handled to the Dog CC at Crufts by Jo. Pat has also bred other CC winners by him.

Simon is the sire of 7 UK Champions and still winning himself, many veteran classes and a CC in 2011 at the age of 8. He won Veteran Dog at Crufts this year - his only show so far in 2012. 5 of his Champion children have Group places some multiple times, something which is hard to achieve for an IG in the UK ! His daugher, Ch Artmeis Kaaliya recently won her US title. She is a Group winner in the UK and winner of the Toy Group YKC finals at Crufts this year handled by her co-owner Helen Rishworth. Another young daughter, Rilloby Sitting Pretty, is currently being campaigned in the US and has just taken two majors. Maggie was BPIS at the Italian Greyhound Club in November.

Simon has sired BOB at Crufts - Ch Dalinset Pamina and is Grandsire of another, the 2011 BOB Ch Rilloby Miss Sunshine plus three other Crufts CC winners.

He is the sire of Top IG 2010 Ch Florita Tiptina also Top Bitch 2011 and Top Puppy in Breed in both 2010 and 2011.

This year (2012) from the first four Championships Shows 3 BOBs 4 CCs a Group 2 ( Reserve BIS UK Toy dog ) and 3 have all had La Scala breeding in their first two generations, Simon being the sire of 2 BOBs a Gp 3 placer and BCC at Crufts. At the Italian Greyhound Club show in March, the BPIS was also by Simon.

A mention too of his sister Artmeis Scintilla Di La Scala - Spark. Sparky sadly lost her life chasing a cat and was hit by a car. From only one litter she was dam of a UK Champion Artmeis Cherchietto at Dalinset and also an FCI International Champion. Her Grandson Ch Dalinset Sarastro has so far won 10 CCs and was Group 2 recently. Jo is currently campaigning two of Spark's grandchildren who both won Best Puppy in Breed at Championship Shows in 2011.
For more pictures and information: please visit Simon's web page at Artmeis & Rilloby IG's web site!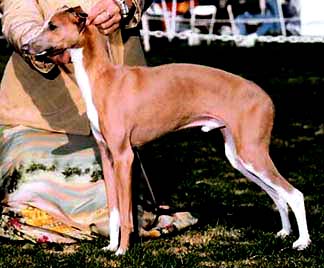 <!**************************** SIRE *************************>
Am. Sw. Norw. Ch. Artmeis C'est Si Bon
Artmeis Fly by Night
So. Af. Ch. Canta Libre Simon Says
So. Af. Ch Dei Carini Gianni
So. Af. Ch Canta Libre Baby Jane
So. Af. Ch. Canta Libre Honey I'm Home
So. Af. Ch. Dei Carini Gianni
So. Af. Ch. Laviere Daisies Don't Tell
So. Af. Ch. Artmeis Bright 'n' Fair
UK Ch. Rilloby One Man Band
UK Ch. Tamoreta Tidal Wave Of Turigner
So. Af. CH Rilloby Figleaf Of Canta Libre
Rilloby Singing the Blues
Ch Myroak Joss
Rilloby Bolt From the Blue
<!**************************** DAM *************************>
Ch. La Scala Angelica Di Belini
Ch. La Scala Il Leone Di Tucker
Ch. Ballon's Desert Stardust
Ch. Winsaphire Demeris D'Pikop
Pikop Midnight Orchid
Ch. Tucker's Candy Apple
Ch. Nodla's Master Dancer
Ch. Tucker's Apple Brown Betty
Ch. Sand Creek Aida Di La Scala
Ch. Sand Creek Ultra Ferazi
Ch. Bo-Bett's Hello Gorgeous
Ch. Mira Chablis Di Ferazi
Pikop's Gemstone O'Montrose
Ch. Pikop's Gold Fever D'Charmac
Pikop's Dark Crystal