Ch. Pan. Gr. Ch. Braz. Ch. Int.
La Scala Eribaldo do Condado
Am. Ch. Pikop's Tic Toc Piaget X Am. Ch. Musica Proibita Di La Scala
Sep 17, 1999 - Jan 31, 2013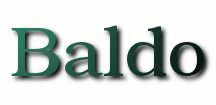 T &nbsp O &nbsp P &nbsp &nbsp &nbsp P &nbsp R &nbsp O &nbsp D &nbsp U &nbsp C &nbsp E &nbsp R
#1 IG in Brazil 2001, All Systems
Text in English follows text in Portuguese in italics.
Photos by Marco Flávio Botelho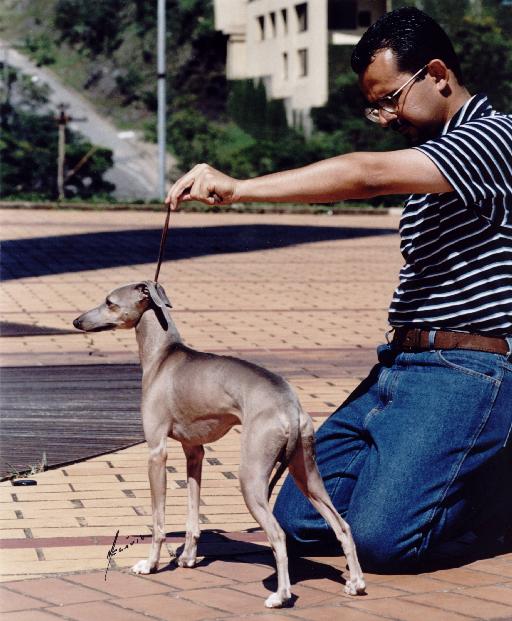 Baldo é um cão da cor blue-fawn (isabela acinzentado), nascido em 1999, nosso primeiro Italian Greyhound. Foi criado pela grande criadora-juíza-autora da raça nos E.U.A., Lilian S. Barber, do canil La Scala, localizado no sul da Califórnia. Os pontos fortes do Baldo incluem, além de um pedigree que com alguns dos principais nomes da raça nos E.U.A., uma belíssima cabeça (que ele transmitiu para grande parte de seus filhos/filhas), movimentação limpa, posterior forte e a silueta (outline) desejada no padrão da raça. Vale destacar que a silueta é a característica mais importante da conformação de um Italian Greyhound.

Baldo is a blue-fawn dog bred and co-owned by our mentor Lilian Barber. He was born in 1999, and came to Brazil as a 10-month old puppy in August 2000, our first Italian Greyhound. Baldo is a very sound dog, with a perfect outline and a beautiful head, which he passed on to most of his offspring. Another characteristic that is important to highlight is his very strong rear. In terms of temperament he is a very sweet dog at home, with us and with the other dogs.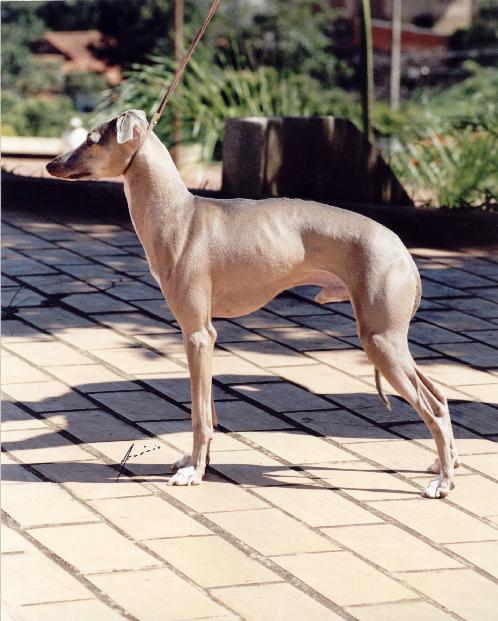 Baldo chegou ao Brasil ainda filhote, com 10 meses, em agosto de 2000. Nos E.U.A. foi exposto de forma limitada, mas é pontuado no AKC, e se classificou no Sweepstakes da Nacional do Italian Greyhound Club of America. Esta é a maior exposição mundial da raça, que conta anualmente com mais de 300 cães. Sua handler nos E.U.A. foi Angie Leonard, do Canil Anji. Baldo foi o Italian Greyhound #1 do Brasil em 2001, e Melhor do Grupo X no ranking daquele ano no Paraná. No Brasil, além de Campeão, Grande Campeão, Campeão Pan-Americano e Campeão Internacional (FCI), destacamos que na sua carreira de pouco mais de 1 ano venceu 8 primeiros de grupo, tendo vencido grupos com galgos de diversas raças no percurso.

Baldo is AKC pointed, although he was shown just a few times in the U.S. His handler there was Angie Leonard (Anji IGs). In Brazil Baldo finished quickly and was also #1 Italian Greyhound in Brazil in 2001 (All Systems). He won 8 Group Firsts, and has four titles: International Champion (FCI), Grand Brazilian Champion, Pan-American Champion and Brazilian Champion. Baldo was also #1 sighthound in Paraná state in 2001.

Click here for pictures of Baldo shown in the U.S.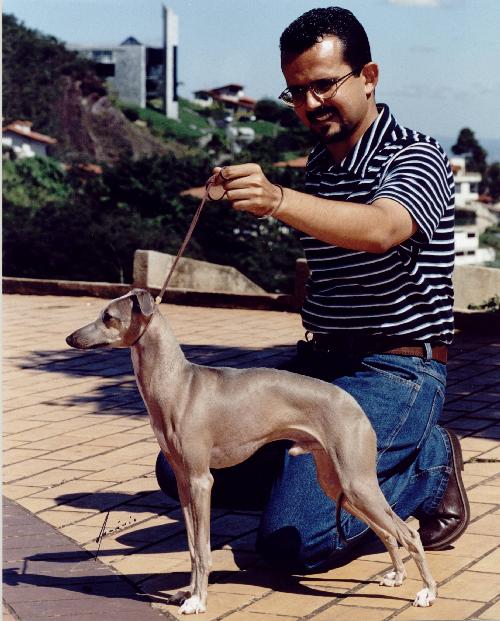 Na reprodução Baldo se destacou de forma inequívoca. Acasalado apenas 3 vezes, tendo produzido um total de 11 filhotes, 6 deles são Campeões, uma taxa de mais de 50%. Duas vezes Baldo foi cruzado com Sumainana Cleopatra (Cleo), uma representante da linhagem introduzida no Brasil no início dos anos 80 pelo canil Van Mark. Três destes filhotes são campeões: J.Ch. Ch. Sumainana Gray Hera, Group Placer J.Ch. Ch. Sumainana Gray Herus, Group Placer Ch. Sumainana GI Garibaldo, Group Placer. Diversos criadores tiveram sucesso com descendentes dos filhotes do Baldo com a Cleo.
Baldo foi acasalado uma vez com nossa NiNi. Deste cruzamento resultaram 5 filhotes, três deles campeões: J.Ch. Ch. Mila do Reino, Group Winner Tininha, J.Ch. Gr. Ch. Br/Pan. Ch. Int. Sliczna do Reino, Multi Group Winner, #1 IG in Brazil 2006, PePe, Ch. Petronius do Reino, Multi Group Winner, #1 IG in Brazil 2005.
O fato do Baldo ter produzido 6 campeões o tornou Top Producer nos E.U.A, sendo listado no anuário da Italian Greyhound magazine pelos próximos 25 anos (a partir de 2006).

Baldo was bred three times, for a total of 11 kids. Of these, 6 finished their Brazilian Championships, making Baldo a Top Producer. He was bred twice to Sumainana Cleopatra, a bitch that is Brazilian for many generations in her pedigree, producing 6 puppies, 3 of which are champions with group placements. Bred once to our NiNi (Am. Braz. Int. Ch. Riccio's Blue Magic D'Kalon) they produced a litter of 5 puppies, 3 of which are champions. One (Mila) is owned by our friends Jairo Muller and Luiz Pinho, and the other two are our PePe and Tininha. All three are group winners; PePe was also #1 IG in Brazil 2005 (all systems), Tininha was #1 IG in Brazil 2006 (all systems) and a Top Ten sighthound (DogShow Ranking) in 2006.

Certificados de Saúde
Health Certificates





Pedigree: Ch. La Scala Eribaldo do Condado (1999)
<!**************************** SIRE *************************>
Ch. Pikop's Tic Toc Piaget
Ch. Sunjata's Wrangler Blues
Ch. Peachwood's Buttonfly Levi
Ch. Pandee's Dandee
Pikop's Denin N Diamonds
Ch. Sunjata's Magie Noir
Ch. Winsapphire Demeris D' Pikop
Ch. Pikop's Candee Dancer
Ch. Pikop's Crystal Illusion
Ch. Bo-Bett's Hello Gorgeous
BIS Ch. Tekoneva's Dario
Bo-Bett's Baby Breath
Ch. Sunjata Pikop's Lady Hawk
Ch. Pikop's Nite Hawk D'Candlewood
Ch. Sunjata's Magie Noir
<!**************************** DAM *************************>
Ch. Musica Proibita Di La Scala
Ch. La Scala Il Leone Di Tucker
Ch. Ballon's Desert Startdust
Ch. Winsapphire Demeris D'Pikop
Pikop Midnight Orchid
Ch. Tucker's Candy Apple
Ch. Nodla's Master Dancer
Ch. Tucker's Apple Brown Betty
Ch. Venere Splende Di La Scala
Ch. Littleluv's Superman, CD
Sempre Kathy's Clown
Ch. Millstone's Silver Charisma
Ch. Olympia Di La Scala
Ch. Tucker's Texas Terror
Ch. Ballatella Di La Scala