Ch. J. Gr. Ch. Br./Pan. Ch. Int.
Sliczna do Reino
Ch. Pan. Gr. Ch. Br. Ch.Int La Scala Eribaldo do Condado (Top Producer) X
Am. Ch. Gr. Ch. Br./Pan. Ch. Int. Riccio's Blue Magic D'Kalon (Top Producer)
Jun 15, 2003 - Sep 22, 2014



T &nbsp O &nbsp P &nbsp 1 &nbsp 0 &nbsp &nbsp &nbsp S &nbsp I &nbsp G &nbsp H &nbsp T &nbsp H &nbsp O &nbsp U &nbsp N &nbsp D &nbsp &nbsp 2 &nbsp 0 &nbsp 0 &nbsp 6
#1 IG in Brazil 2006, All Systems
Text in English follows text in Portuguese in italics.
Photos by Marco Flávio Botelho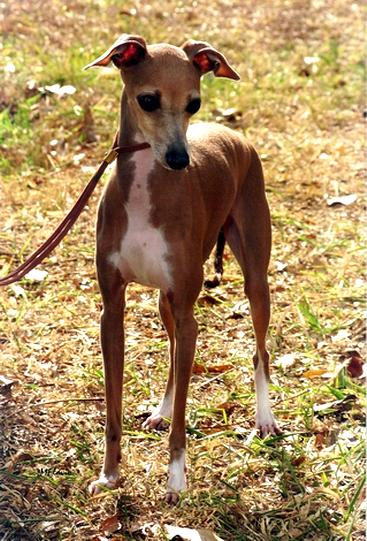 Tininha é uma pequena galguinha, com 32 centímetros na cernelha, que em 2006 foi o Pequeno Lebrel Italiano #1 do Brasil em todos os rankings, e também ficou classificada entre os 10 melhores galgos do país (Ranking DogShow), considerando todas as raças de galgos. Em toda sua carreira venceu 9 1os de Grupo, e múltiplas outras colocações. Nascida em 14 de junho de 2003, ela é isabela de belo tom dourado, e é filha da nossa NiNi e Baldo.

Tininha is a small fawn girl, with a nice golden hue. She is only 32cm tall, about 13". She was born on June 14, 2003, and is a daughter of NiNi and Baldo. She is the 2006 #1 IG in Brazil, all systems, and also a Top 10 Sighthound in the country (DogShow Ranking). She won 9 Group Firsts (total of her show career), and has placed in multiple other groups.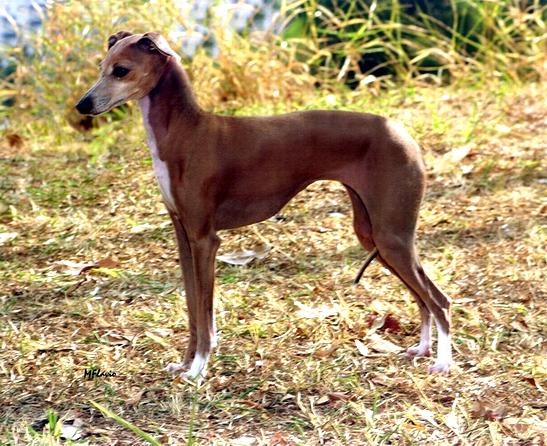 Apesar do seu temperamento reservado, Tininha adora exposições, e tem encantado juízes e expectadores com sua movimentação poderosa num cãozinho tão pequeno.

Tininha has the typical temperament of small Italian Greyhound bitches, but she loves to show, and both judges and the public at the shows are captivated by the powerful yet graceful movement of such a small sighthound.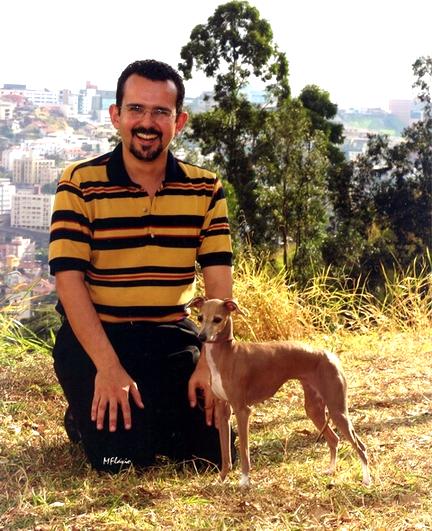 Filha do Baldo, que é isabela-acinzentado, com a NiNi, que é cinza, ela foi a surpresa da ninhada, sendo isabela em um tom quase dourado. Dos 11 filhos do Baldo, os outros 10 são cinza.

Of the 11 Baldo sons & daughters, 10 are blue, only Tininha is fawn. NiNi (her dam) on the other hand has produced blue, black, red, and fawn.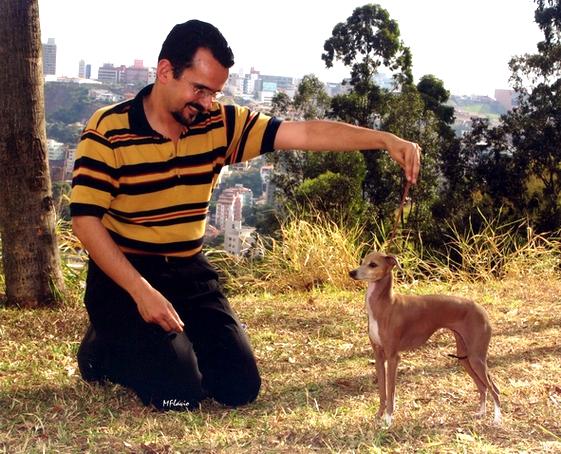 Pedigree: Ch. Sliczna do Reino (2003)
<!**************************** SIRE *************************>
Ch. La Scala Eribaldo do Condado
Ch. Pikop's Tic Toc Piaget
Ch. Sunjata's Wrangler Blues
Ch. Peachwood's Buttonfly Levi
Ch. Sunjata's Magie Noir
Ch. Pikop's Crystal Illusion
Ch. Bo-Bett's Hello Gorgeous
Ch. Sunjata Pikop's Lady Hawk
Ch. Musica Proibita Di La Scala
Ch. La Scala Il Leone Di Tucker
Ch. Ballon's Desert Stardust
Ch. Tucker's Candy Apple
Ch. Venere Splende Di La Scala
Ch. Littleluv's Superman, CD
Ch. Olympia Di La Scala
<!**************************** DAM *************************>
Ch. Riccio's Blue Magic D'Kalon
Ch. Sunjata's Wrangler Blues
Ch. Peachwoods Buttonfly Levi
Ch. Pandee's Dandee
Pikop's Denin N Diamonds
Ch. Sunjata's Magie Noir
Ch. Winsapphire Demeris D' Pikop
Ch. Pikop's Candee Dancer
BISS Ch. Kalon's Heart and Soul
Montrose L'Image Distant Thunder
Ch. Pikop's Gold Fever D'Charmac
Pikop's Dark Crystal
Kalon's Moonlight Maiden
Ch. Kalon's Moonlight Knight
Ch. Pikop's Chariots of Fire