Am. Ch. Braz./Pan. Gr. Ch. FCI Int. Ch.
Riccio's Blue Magic D'Kalon
Am. Ch. Sunjata's Wrangler Blues (Top Producer) X Am. Ch. BISS Kalon's Heart & Soul (Top Producer)
Dec 29, 1999 - Sep 25, 2010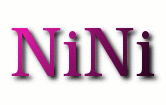 T &nbsp O &nbsp P &nbsp &nbsp &nbsp P &nbsp R &nbsp O &nbsp D &nbsp U &nbsp C &nbsp E &nbsp R
#1 IG in Brazil: 2002, 2003 and 2004
2002 Ranking CBKC/Pedigree 2003 All Systems 2004 Ranking Dogshow Breed Points
Text in English follows text in Portuguese in italics.
Photos by Marco Flávio Botelho
NiNi representa a base da linhagem do Canil do Reino. Ela chegou ao Brasil em julho de 2002, especificamente no dia em que o Brasil ganhou a Copa do Mundo (que naquele ano foi no Japão/Coréia). Nascida no sul da Califórnia, NiNi fechou seu campeonato americano naquele circuito de exposições, que é um dos mais concorridos dos E.U.A. na raça. Uma pequena galguinha, com bela silhueta e ótimos aprumos, sua movimentação limpa com grande alcance, representa um reflexo das suas excelentes angulações. <! a href=niniEUA.html Clique aqui para ver fotos de NiNi nos EUA. /a>

NiNi is the foundation bitch of Canil do Reino. She arrived in Brazil in July 2002, on the day Brazil won the World Soccer Cup, which had been in Japan/Korea in that year. A blue bitch, born on December 29, 1999, she was bred by Jill Hopper (Riccio IG's) and Lynn Poston (Kalon IG's). NiNi is a small bitch (13 1/2 inches), with a beautiful outline, perfect front, great rear and outstanding movement. NiNi is a tribute to Lynn Poston's breeding program, having several consecutive generations of Kalon IG's in her pedigree. NiNi finished her American Championship in the very tough competition of southern California, one of the top circuits for IG's in the U.S. We will be forever grateful to Jill who let this truly special girl come to Brazil to be the queen of our hearts and the foundation of our breeding program.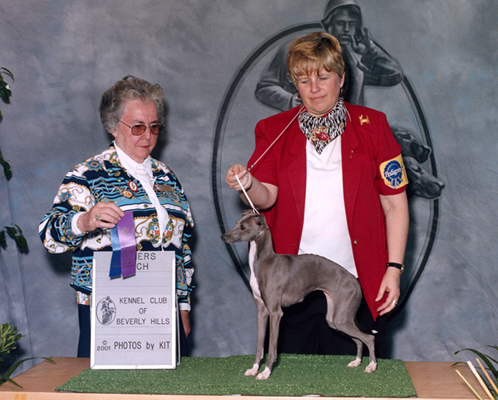 <!NiNi1.jpg>
No Brasil ganhou um total de 15 primeiros de grupo, ao longo dos três anos de sua campanha. Teve múltiplas classificações importantes em grupos das principais exposições do país. Por três anos consecutivos (2002, 2003 e 2004) foi o Pequeno Lebrel Italiano número 1 do Brasil, no Ranking CBKC e/ou no Ranking Dogshow. Em 2004 NiNi foi também o cão número 1 do X Grupo no Paraná.

Her show career in Brazil was outstanding: she won 15 Group Firsts, and multiple placements, including several editions of the biggest shows in Brazil (the October KCSP Dog Show in São Paulo, and the Anniversary of the Brasil Kennel Club in Rio de Janeiro). She was #1 IG in Brazil for three years (2002 CBKC/Pedigree Ranking; 2003 All Systems; 2004 DogShow Ranking Breed Points).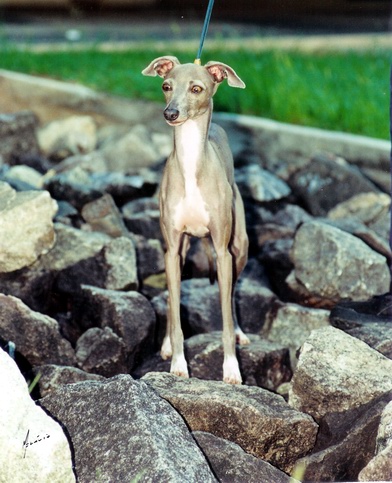 NiNi foi acasalada duas vezes. O primeiro cruzamento foi com o Baldo, e resultou em uma ninhada de 5 filhotes. Destes 3 são campeões: Tininha, Mila e PePe. Na ninhada seguinte, NiNi foi cruzada com o Vico, e teve dois filhotes, ambos grandes campeões, campeões internacionais, vencedores de múltiplos grupos: Tavi e KiKi. KiKi por sua vez é a mãe de Dora, o primeiro Italian Greyhound vencedor de BIS adulto de todas as raças no Brasil. NiNi se transformou em Top Producer nos E.U.A. quando o seu quinto filho fechou campeonato brasileiro, e será listada durante 25 nos no anuário da revista IG Magazine.

NiNi was bred twice. The first time she was bred to Baldo, and produced a litter of 5 puppies, 3 of which are champions: Mila (owned by our friends Jairo Muller and Luiz Pinho), and our PePe and Tininha. The second time she was bred to Vico and produced our Tavi and KiKi, after both finished their grand championships and are also International Champions. KiKi is the dam of Dora, the first Italian Greyhound to win BIS all-breeds (adult) in the history of the breed in Brazil. With 5 champion get, NiNi is a Top Producer and will be listed at the annual issue of the IG magazine for 25 years from 2008.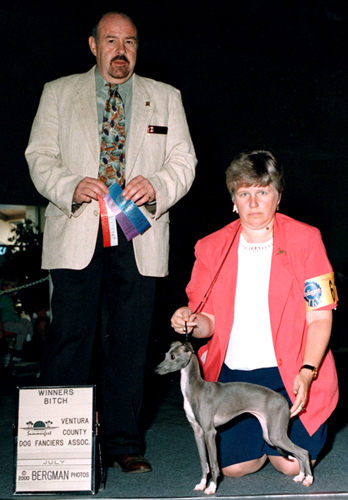 <!NiNi2.jpg>
Certificados de Saúde
Health Certificates
Pedigree: Ch. Riccio's Blue Magic D'Kalon (1999)
<!**************************** SIRE *************************>
Ch. Sunjata's Wrangler Blues
Ch. Peachwood's Buttonfly Levi
Ch. Pandee's Dandee
Ch. Mira Hill N'Dale D'Dasa
Ch. Mira Belina Gina
Pikop's Denin N Diamonds
Ch. Classic's Destined To Be
Ch. Pikop's Flash Dancer
Ch. Sunjata's Magie Noir
Ch. Winsapphire Demeris D' Pikop
Ch. Bevsoni's CC & Acqua
Ch. Pikop's Sonnet
Ch. Pikop's Candee Dancer
Ch. Pikop's Nite Hawk D'Candlewood
EKC's Solatarra D'Pikop
<!**************************** DAM *************************>
BISS Ch. Kalon's Heart and Soul
Montrose L'Image Distant Thunder
Ch. Pikop's Gold Fever D'Charmac
Ch. Pikop's Indgo Roc D'Candlewood
Ch. Pikop's Birth of The Blues
Pikop's Dark Crystal
Ch. Pikop's Ghost Buster
Ch. Pikop's Ring Of Fire
Kalon's Moonlight Maiden
Ch. Kalon's Moonlight Knight
Ch. Dick Johnson Di La Scala
Ch. Kalon's Teardrop Trinket
Ch. Pikop's Chariots of Fire
Ch. Pikop's Nite Hawk D'Candlewood
Pikop's Classic Design of EKC