---
L a S c a l a I t a l i a n G r e y h o u n d s: H i s t o r y
L i l i a n & D o n B a r b e r
---
Ch. La Gioconda Di La Scala
& her full siblings:
Ch. Windswift Sari Di La Scala,
Amami Alfredo Di La Scala,
Silvio Silverfish Di La Scala, CD
Ch. San Dan Nero of Hi Skyes, CD X Davette's Tina Carlota, CD 1967 & 1968
- S M I L E Y-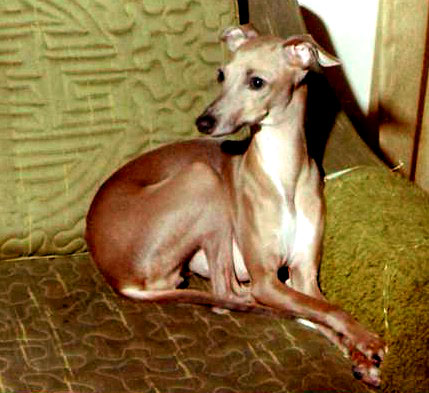 Lilian only kept one bitch from the first Nero X Tina litter, that was Smiley, Ch. La Gioconda Di La Scala. Above and below you can see pictures of her. Smiley was bred only once, but she had trouble delivering her single puppy, and Lilian decided not to breed her anymore. That puppy was a small boy out of <!a href="wavecrest.html">Rico (Il Trovatore Di La Scala)<!/a> who was sold to Betty Rankin, Robetti IG's. Smiley had two brothers. One of them, Amami Alfredo Di La Scala (Alfie), is the one behind everything that came later. As you will see as you continue to read the story, it wasn't that easy at all. The picture below shows Smiley shown by June Hunt: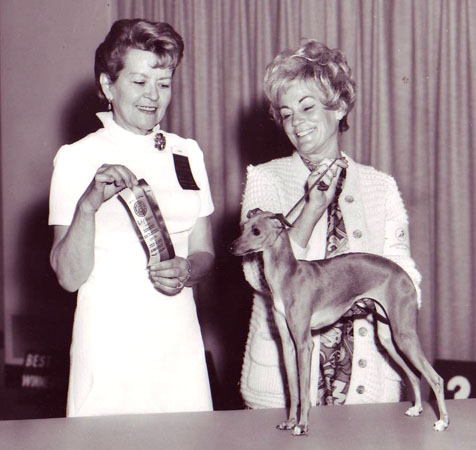 Lilian had sold Alfie to a young couple who very actively showed a bitch and they wanted him so they could start breeding. Alfie was a very handsome boy. The people also had horses and they let their dogs run with the horses. Alfie was kicked by a horse and broke his jaw. Today it may sound absurd, but at the time it was set by a vet with a wire. This meant Alfie had to be fed liquid food several times a day. The owners didn't want to bother with it, so they asked June Hunt if she would keep him till the wire came out -- about three months. They would pay her. Well, they left him with her for nearly six months and didn't pay anything. One day when they knew June was at work they kidnapped Alfie. They also didn't pay board for their horses and left one day without any forwarding address. They left Alfie with the horse people with a note that said he was worth more than what they owed for the horses' board. They signed his papers over to the horse people.
Meanwhile, Lilian had lost track of him but kept trying to find what had happened. Miraculously, one of the drivers at Technicolor, where she was working, saw Alfie at the horse ranch, which was on her route. When she came back she asked if Lilian knew people with a horse ranch in that area that also had IGs. Lilian asked her to get the phone number of the people. She called them and found out that their male was Alfie. They had bought a bitch to breed to him so they could have puppies to sell. Lilian went to look at their litter and tried to buy Alfie back, but they wouldn't sell him. She did buy one of the puppies. That became <!a href="traviata.html">Ch. La Traviata Di La Scala<!/a>. She is behind most of La Scala dogs of the next decades. Lilian says Alfie was one of the most beautiful IGs she has ever bred, but he was only shown once and got one single point. Here is a picture of Alfie shown by June Hunt: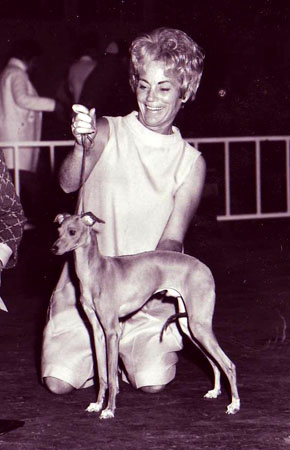 The second Nero x Tina litter produced two girls and a boy. That was in December of 1968. June Hunt kept the pick girl and finished her -- Ch. Windswift Sari Di La Scala. Windswift was June Hunt's kennel name for her IGs. When she had Maltese it was Hi Skyes (as in Ch. San Dan Nero of Hi Skyes, CD). She decided she needed a different name for the IGs. Sari (Lucky) was June's pick puppy for the stud fee but she later gave (or sold) her to Betty Rankin, who already had a bitch from the first Nero x Tina litter --Anema e Cuore Di La Scala. That was a gorgeous bitch but big and never shown. She produced two champions for Betty (kennel name Robetti). Sari also produced two Robetti champions. Here is Ch. Windswift Sari Di La Scala: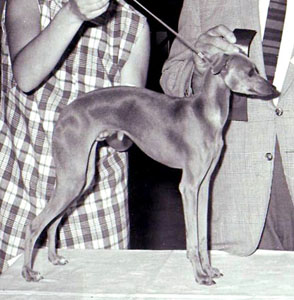 The other girl was Windswift Scat Di La Scala, she was the dam of 2 Top Producers of the 70's, both by Ch. Srinagar Poco Mio of Lompoc: Windswift Derdego Francesca and Ch. Windswift Sally Forth.
Silvio was the pretty boy from the litter. He belonged to Velta Suna, who let June Hunt show him for a while but then decided to do obedience with him. He had one major and about 8 or 9 points when Velta disliked the whole dog show routine and stopped showing him. Silvio did receive a CD obedience title and you can see his picture below.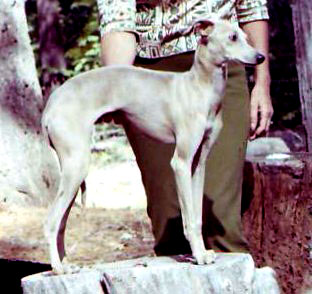 Pedigree of Ch. La Gioconda Di La Scala, CD (1967), and siblings, including Amami Alfredo Di La Scala (1968)
<!**************************** SIRE *************************>
Ch. San Dan Nero of Hi Skyes
Ch. Nodla Tony Boy
Paolo of Chelstoncross
Scipio of Velletri
Can. Ch. Juliette of Palermo
Carlotta of Jachelann
Gabriel of Malora
Ch. Jessica of Jachelann
Boyer's Molly B of Leorra
Harwill's Blue Flash of Leorra
Paolo of Chelstoncross
Ch. Harwill's Stormy Portia
Heide of Leorra
Mickie of Leorra
Bunny Girl of Leorra
<!**************************** DAM *************************>
Davette's Tina Carlotta, CD
Bonny Lad of Kashan
Ch. Orson V. Bayerischen Meer
Golo v.d. Porta Westfalica
Alfa v. Bayerischen Meer
Curious Lass of Kashan
Ch. Pablo of Kashan
Kirklea Kim
Marta of Kashan
Ch. Orson V. Bayerischen Meer
Golo v.d. Porta Westfalica
Alfa v. Bayerischen Meer
Kirklea Kim
Aira Vana's Darnello
Ch. Kirklea Bronze of Malora
Alfie's offspring of note:
Ch. La Traviata Di La Scala, out of Lady Geniviea