---
L a S c a l a I t a l i a n G r e y h o u n d s: H i s t o r y
L i l i a n & D o n B a r b e r
---
Wavecrest Lady in Ermine
Ch. Lyonhil's Roadrunner X Wavecrest Demure Dimita, 1967
& her daugther
Ch. La Dolce Vita Di La Scala
Ch. San Dan Nero of Hi Skyes X Wavecrest Lady in Ermine, 1970
- C A N D Y &nbsp & &nbsp K E L L Y -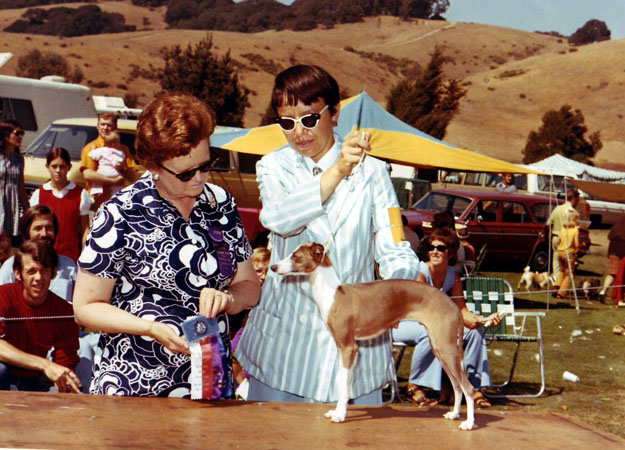 In the picture above you can see Kelly, Ch. La Dolce Vita Di La Scala, and a very young Lilian as she started handling her own dogs. The judge is Winifred Nishimura. Lilian had obtained her first Italian Greyhound, Tina, with the assistance of Ruth Bloore (Wavecrest IG's). Soon after that, Ruth bred the lovely blue pied Wavecrest Demure Dimita to the Top Producer Ch. Lyonhil's Roadrunner. Wavecrest Demure Dimita had made a very deep impression on Lilian. From this litter came one of the most influential IG's of all time in the U.S., the sire of 42 champions out of 20 dams: Top Producer Ch. Wavecrest Veni Vidi Vinci. Lilian was able to purchase a little pied fawn girl from this litter, and this was Candy, Wavecrest Lady in Ermine. The picture below shows Candy and her litter by Ch. San Dan Nero of Hi Skyes. One of the puppies is Kelly, Ch. La Dolce Vita Di La Scala.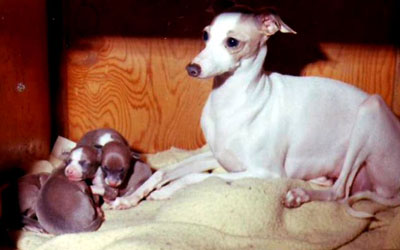 Kelly was bred twice. The first was a breeding to Ch. Padre Dorian Joh-Cyn, an older IG male that Lilian kept during the last few years of his life because Father Watson - yes, he was a priest that bred Italian Greyhounds in the 60's and 70's - had to place many of his dogs when he changed to a new parrish. The other breeding was to Top Producer Ch. Kreszenz Cherokee Chief, and resulted in 3 pretty girls. One of them, Caro Nome Di La Scala, bred to Ch. Wavecrest Pepperoni, produced a champion bitch, Ch. La Boheme Di La Scala. Ch. La Boheme was sold to Fran Priddy (Park Center) and then to Tim Catterson & Chuck Scott (Evergreen) and produced several champions for Evergreen.
Another Kelly daughter, Siciliana Di La Scala, was owned by Paula Hutchinson (Sylhue). When Paula passed away, Siciliana had a 6 week old litter of 5 puppies. All her dogs were at Don Dunmire's house (Nodla) and Lilian drove to Pennsylvania to pick up Siciliana (Paula called her "Anna") and her babies. One of them finished his championship -- Ch. Ridi Pagliaccio Di La Scala (AKA "John-Pup").
June Hunt also kept a Nero X Candy daugther: Windswift Tarantella (Spider) and got several points on her. Spider was later sold to Kreszenz IG's, and went on to produce several champions, although she herself was never shown to her championship. Bred to Top Producer Ch. Kreszenz Cherokee Chief (Ch. Wavecrest Tony Boy X Ch. Wavecrest Denise of Ascot) she produced 3 champions: Ch. Kreszenz Cherokee Windsong, Ch. Kreszenz Smoke Signal, and most important: Ch. Kreszenz Coachwynns Criket, CD, Top Producer, dam of 8 champions, including the top ranked Am. Mex. Can. Ch. Coachwynns Corriander. Lilian showed a Spider champion in the 70's: Ch. Paggliaccio Di La Scala, by the Top Producer that had a great influence on the breed Ch. Hilador Regio Destino. Note that this is not Ch. Ridi Paggliaccio Di La Scala out of Siciliana mentioned above. Until the early 80's Spider was listed as a Top Producer (4 champions) and was herself the dam of two Top Producers.
With a stellar pedigree, coming from such high quality breeding, Lilian had high hopes for Candy (Wavecrest Lady in Ermine) as a foundation bitch. The breeding to Nero was done twice. Besides Ch. La Dolce Vita Di La Scala (Kelly) two others from that breeding -- Il Trovatore Di La Scala and Windswift Zephyr Di La Scala --were only a point or two from their title when catastrophe struck. Those were very beautiful dogs with bone density problems that all too easily incurred fractures that did not heal. Il Trovatore (Rico) was one of Lilian's favorite dogs in every way, and she was devastated by his fate. Lilian is a firm believer that many of these excessive leg breaks are part of a hereditary pattern. There were also multiple fractures in the next generation, which sparked in Lilian the need to change to another foundation bitch.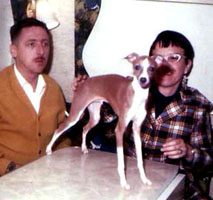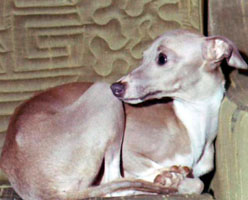 Above are pictures of Don & Lillian with Rico, Il Trovatore Di La Scala (1969), on the left, and on the right the Rico daughter Frosty, Mar-Kel's A Frosty Punch (1971).
<!BR> <!img src="CandyV2.jpg" align="center" border="2"> <!BR>

<!**************************** SIRE *************************>
Ch. Lyonhil's Roadrunner
Ch. Lyonhil's Mark The Whip
Am. Int. Ch. Ulisse Di Peltrengo of Winterlea
Simba Springinsfeld
Ombretta Di Peltrengo
Ch. Aira Vana's Maid of Silk
Aira Vana's Don Batiste
Ch. Aira Vana's Gianina
Ch. Noways Botique of Bulldene
UK Ch. Noways Matthew
Am. Int. Ch. Ulisse Di Peltrengo of Winterlea
UK Ch. Noways Edite Clocke v Damiate
Noways Dainty
Noways Starlight
Noways Pandora of Chelstoncross
<!**************************** DAM *************************>
Wavecrest Demure Dimita
Ch. Lyonhill's Mack The Knife
Ch. Lyonhill's Atom
Trade Winds Bimbo
Ch. Aira Vana's Maid of Silk
Ch. Aira Vana's Mia
Ch. Aira Vana's Snowball
Bluedon's Isolde
Ch. Wavecrest Golden Goddess
Mickie of Leorra
Ch. Porta Westphalica's Markus, CD
Ch. Kandi Kane of Leorra
Knight's Queen Jeannie
Rose's Sampson Delight
Queen Peg O'Heart