---
L a S c a l a I t a l i a n G r e y h o u n d s: H i s t o r y
L i l i a n & D o n B a r b e r
---
Ch. La Scala Laguna Un Bel Di
Ch. Kimson's Platinum Edition X BIS Ch. Laguna La Scala Heart Afire, 1998
- C I O &nbsp C I O -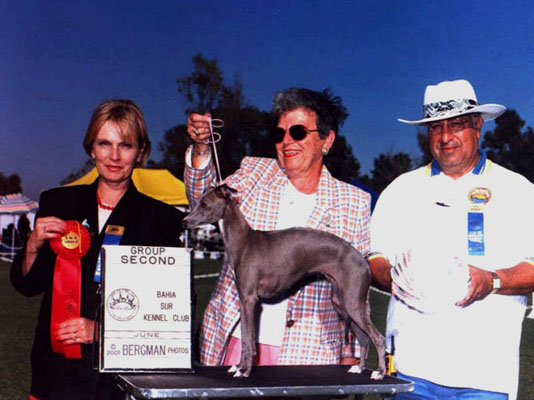 Cio Cio was bred by Yvonne Morgan, Laguna IG's, and is one of the Laguna champions coming from Carmela, Yvonne's foundation bitch bred by Lilian, Ch. La Scala Leontyne Di Tucker. Carmela was the dam of top ranked Ch. La Scala Lagunas Ragazzo, himself the sire of Ch. Laguna Kreszenz Prevailing Wind, Top Producer, also a top ranked IG in the U.S.
Cio Cio's dam is the Best In Show All Breeds Carmela daughter: BIS Ch. Laguna La Scala Heart Afire (Lillie). Her sire is the Top Producer Ch. Kimson's Platinum Edition. Several siblings were highly successful: including sister Ch. Laguna's Firestarter and two brothers both Top Producers: Ch. Kimson's Laguna's Home Run, and the winner of Best In Show All Breeds, BIS Ch. Laguna Kinsom's Slam Dunk.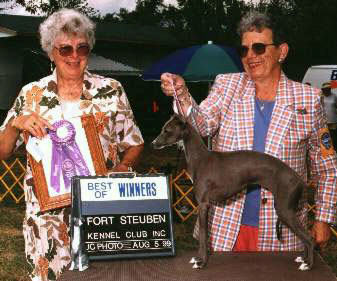 Cio Cio was a stunning IG since she was a puppy (see pictures below), and was very successful in the show rings, with multi-group placements in very tough Southern California Toy competition, always owner-handled.
Cio Cio was bred three times, the first time to Tony, but this proved to be a too close linebreeding in IG's. Then she was bred twice to Top Producer Ch. Pikop's Wine N' Roses, and produced two champion dauthers, Ch. Gioia Di La Scala and Ch. Laguna Dolcezza Di La Scala, owned by Yvonne Morgan. She also produced Jazzie, Reserve Winners Bitch at the IGCA Nationals in 2005 under Anne Rogers Clark.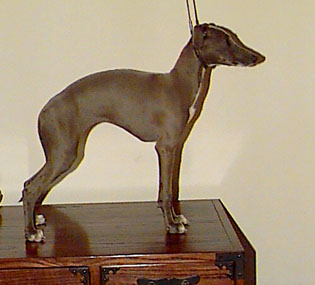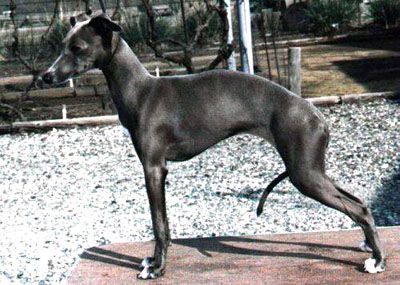 <!**************************** SIRE *************************>
Ch. Kimson's Platinum Edition
Ch. Anthony's Winston Sweetfire
Anthony's Grand Canyon
Ch. Salswift's Sebastian D'Anthony
Ch. Sweetfire's Baby Grand
Ch. Rococo Dominica Mira
Ch. Zebec Smokey Bear
Ch Laviere Sweetfire Sprite
Ch. Kimson's Final Applause
Ch. Peachwood's Buttonfly Levi
Ch. Pandee's Dandee
Pikop's Denim N Diamonds
Ch. Heritaj Gina
Ch. Salswift's Fiero D'Broomhall
Ch. Salswift's Simply Scarlet, CD
<!**************************** DAM *************************>
BIS Ch. Laguna La Scala Heart Afire
Ch. Peachwood's Buttonfly Levi
Ch. Pandee's Dandee
Ch. Mira Hill N'Dale D'Dasa
Ch. Mira Belina Gina
Pikop's Denim N Diamonds
Ch. Classic's Destined To Be
Ch. Pikop's Flash Dancer
Ch. La Scala Leontyne Di Tucker
Ch. Ballon's Desert Startdust
Ch. Winsapphire Demeris D'Pikop
Pikop Midnight Orchid
Ch. Tucker's Candy Apple
Ch. Nodla's Master Dancer
Ch. Tucker's Apple Brown Betty