---
L a S c a l a I t a l i a n G r e y h o u n d s: H i s t o r y
L i l i a n & D o n B a r b e r
---
Ch. Canio Di La Scala
Ch. Kreszenz Cobra Jet X Ch. Amelia Di La Scala, 1982
- C A N I O -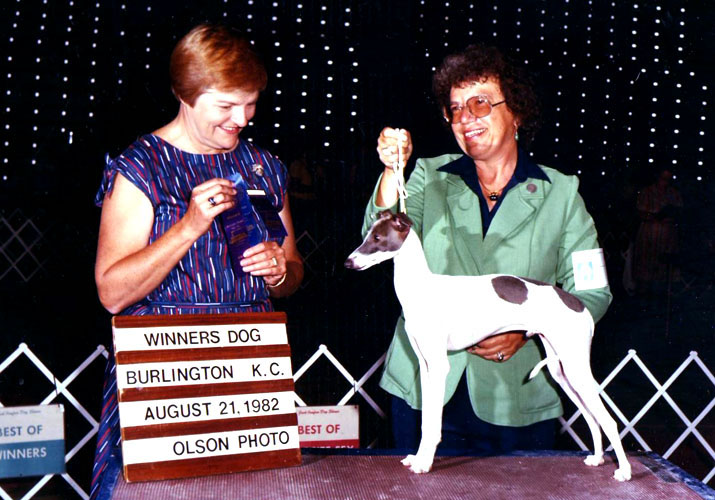 Canio is out of Lilian's beloved Domino (Ch. Amelia Di La Scala) and his sire is Top Producer Ch. Kreszenz Cobra Jet, who came to live at La Scala later in his life.
Two Canio daughters have been influential in the La Scala breeding program: Top Producer Ch. Colombetta Di La Scala, owned by Jutta Kulic - Ferazi IG's, and Ch. T-Ann Queen of Hearts, dam of Ch. Dick Johnson Di La Scala (produced several champions for the Kalon IG's breeding program).
Canio appears behind quite a large number of current Italian Greyhounds, mainly through his daughter Ch. Colombeta Di La Scala (Top Producer) and her grandson Ch. Ferazi Ringmaster (Top Producer).
<!**************************** SIRE *************************>
Ch. Kreszenz Cobra Jet
Ch. Popolino Di Monterey
Ch. Wavecrest Veni Vidi Vici
Ch. Lyonhil's Roadrunner
Wavecrest Demure Dimita
Pellirossa Di Monterey
Ch. Seminole of Bella Casa
Tutta Minierva Di Monterey
Ch. Wavecrest Denise of Ascot
Ch. Seminole of Bella Casa
Ch. Lyonhil's Mack the Knife
Maria D'Bella Casa
Ch. Wavecrest Donna Mia
Ch. Lyonhil's Roadrunner
Ch. Far Away Angel J
<!**************************** DAM *************************>
Ch. Amelia Di La Scala
Ch. Pikop's Lil Midnight Special
Ch. Pikop's Little Winemaker Me
Ch. Wavecrest Mack The Knife
Davette's Satin Julie
Ch. Nelshire's Call Me Carinna
Periwinkle's Black Gold
Ch. Liza Jane of Kashan
Ch. Sylhue Maid of Virtue
Humbleacre Sylhue Pacesetter
Ch. Lyonhil's Castaway of Robi
Ch. Lyonhil's Tinsel
Ch. Sylhue Fleet Maid
Am. Can. Ch. Monfret Mercury
Ch. Paola Sybil