---
L a S c a l a I t a l i a n G r e y h o u n d s: H i s t o r y
L i l i a n & D o n B a r b e r
---
Ch. Sylhue Maid of Virtue
Humbleacre Sylhue Pacesetter X Ch. Sylhue Fleet Maid, 1974
- S P E E D Y -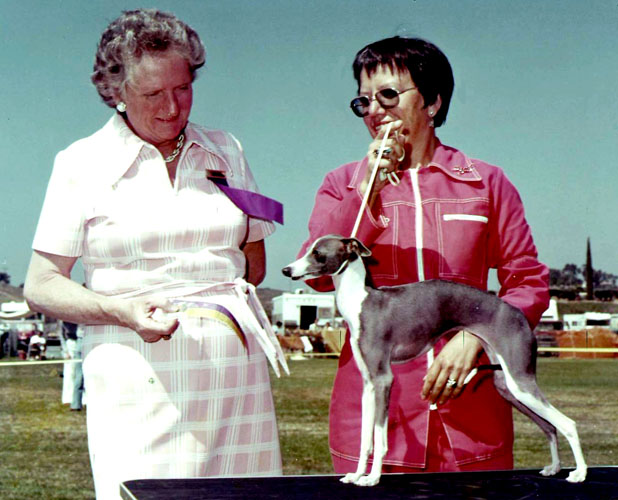 Lilian got Ch. Sylhue Maid of Virtue (Speedy) in late 1974. Her breeding program was taking a new turn: Lilian had acquired Nova in 1973. After she had tragically lost Rico in 1971 and soon later his daughter Frosty, she very nearly gave up breeding Italian Greyhounds. Speedy and Nova arrived in her life just when they were really needed. This is how Lilian tells the story:
Things were going very badly with my IG involvement in the early '70s, and I almost gave it all up. I think in a last ditch attempt to stay active in dogs, in 1973 I decided to take a trip to New York to see the Westminster show in person for the first time. I had been corresponding with Paula Hutchinson, Sylhue IGs, one of the top breeders at that time. Paula lived in Indianapolis, and I flew there to visit Paula on the way to NY. We drove from there to visit Don Dunmire, Nodla IGs, who was a good friend of hers. After an interesting visit in his Pennsylvania home, we went on to New York, where I was completely fascinated by Westminster and the following visit to some other IG people --notably Louise Cleland (Cleden) and her husband. Paula kept talking about her plans for what she hoped would be her best litter ever. My passion for the breed started to be re-kindled.

That litter was born in March of 1974, and Paula immediately started to call me several times a week to tell me how wonderful the three little girls were turning out. I started to plan another trip to possibly talk Paula into selling me one of them. Meanwhile Paula lost her job in Indianapolis and moved to a smaller town where she had acquired a new position (she was a first rate interior designer). Long story short, late in '74 I flew to Indiana again although Paula had told me that she had already sold the two puppies from the litter that she didn't want to keep. She was keeping her pick, Sylhue Maid of Virtue, who was about to make her show debut.

It was love at first sight when I got my first glimpse of "Virtue". She was a small, refined, delicate appearing, very attractive youngster, just over six months at that point. We went to her first show and Paula showed her to Best of Winners. I was almost disappointed. When Virtue won so nicely at her first dog show I felt that Paula wouldn't part with her. Bill Usherwood [William Usherwood, AKC judge, IG breeder, and long time Lilian's friend (Elias' note)] was at the show and I talked to him about it. He said I should ask anyway, that one never knows what can happen. I did ask. Paula needed money badly and agreed to sell Virtue to me but wanted to keep co-ownership. I was willing to do that, although one of the conditions was that I breed Virtue (re-named Speedy by me) to her full brother the first time she was bred. I really didn't want to do that. I had learned the hard way what can happen with too close a breeding, but I decided I'd worry about it later.

Speedy very quickly became my #1 dog. She was charming, bright, funny and fit into our little family very well. It took about six months for Speedy to mature sufficiently to win in Calif. competition and, considering the price and the agreement, I had some second thoughts. However, eventually Speedy took hold and finished her championship quite easily. She also became a group placer --owner handled, which was an all-time first for me. Before breeding her, I gained full ownership and did not have to comply with the original agreement. Speedy had a very small waist and required C-section deliveries for both her litters. Unfortunately she did not pass on her delightful appearance to any of her puppies. Her litter sister, Ch. Sylhue Maid of Chastity, owned by Leonard Krosschell, was not as nice an IG but produced much better. However, one of Speedy's two offspring from her second litter, Ch. Amelia Di La Scala (Domino), carried on the La Scala tradition for me. One of Speedy's daughters from her first litter went to Belina Lazzar and cemented a lifetime friendship with Belina, which was worth far more than if Speedy had become a Top Producer.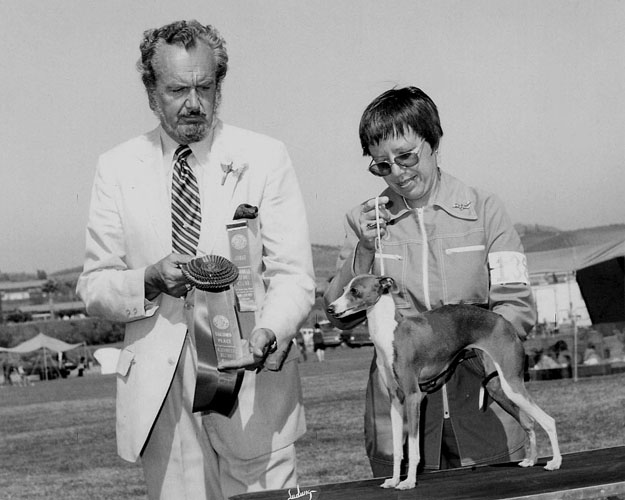 <! except that she and Tina didn't get along. Tina was about 7 at the time, but an older woman who already had one of our puppies had been after me to let her adopt Tina as a companion for her other IG. With the situation between Tina and Speedy, I decided it was best for Tina and for me to let her go.>
<!**************************** SIRE *************************>
Humbleacre Sylhue Pacesetter
Ch. Lyonhil's Castaway of Robi
Ch. Lyonhil's Redwing
Ch. Lyonhil's Roadrunner
Ch. Aira Vana's Maid of Silk
Ch. Craig Hall Cleome
Ch. Silver Falcon
Hillengold's White Magic
Ch. Lyonhil's Tinsel
Ch. Lyonhil's Redwing
Ch. Lyonhil's Roadrunner
Ch. Aira Vana's Maid of Silk
Ch. Lyonhill's Parakeet
Ch. Lyonhil's Mark The Whip
Egret of Jachelann
<!**************************** DAM *************************>
Ch. Sylhue Fleet Maid
Am. Can. Ch. Monfret Mercury
Am. Int. Ch. Ulisse Di Peltrengo of Winterlea
Simba Springinsfeld
Ombretta Di Peltrengo
Winterlea Isabella Di Peltrengo
Swis. It. Ch. Corradino Di Peltrengo
It. Ch. Ornella Di Peltrengo
Ch. Paola Sybil
Ch. Nodla Tony Boy
Paolo of Chelstoncross
Carlotta of Jachelann
Roxanna of Jachelann
Paolo of Chelstoncross
Aira Vana's Juliann