---
L a S c a l a I t a l i a n G r e y h o u n d s: H i s t o r y
L i l i a n & D o n B a r b e r
---
BPIS/BISOH Am. Ch. Peonya do BR Reino
Braz. Ch. Petronius do Reino X Braz. BIS Braz./Pan. GGh. FCI Int. Ch. Dorotka do BR Reino, 2011
- P E P A -
The #1 Owner-Handled IG in the US in 2012


In 2012 Pepa was awarded BIS at the Santa Ana Kennel Club Owner/Handler series! PePa started by winning BOB under judge Arlene Benko, and then she got to the Owner/Handler Toy Group: she won it, Group 1st. Then, Lilian showed PePa in the Owner/Handler Best in Show ---- and, PePa WON it! Owner/Handler Best in Show!!! Our gratitude to sighthound breeder, judge Mr. Irving Bonios.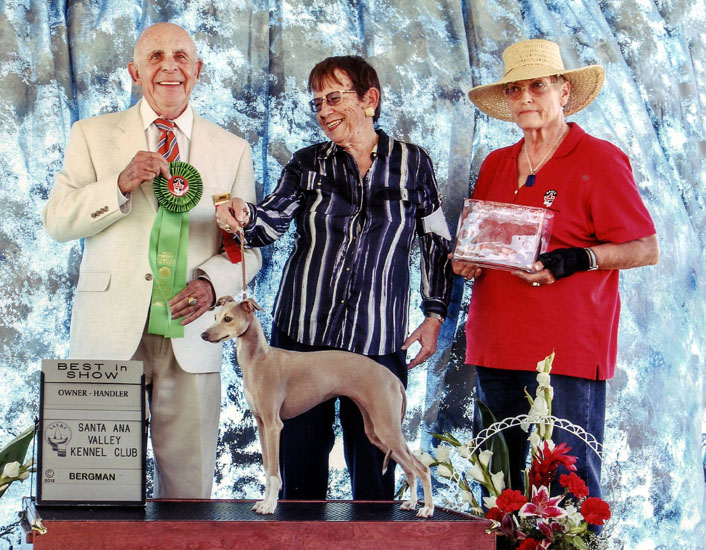 ---
PePa has so far won 9 Bests Of Breed! Thank you judge Mr. Darryl Vice: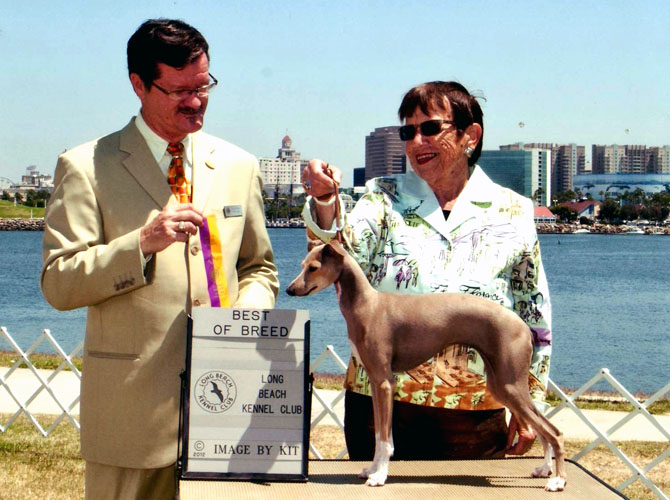 ---
Thank you judge Mr. Michael Dachel: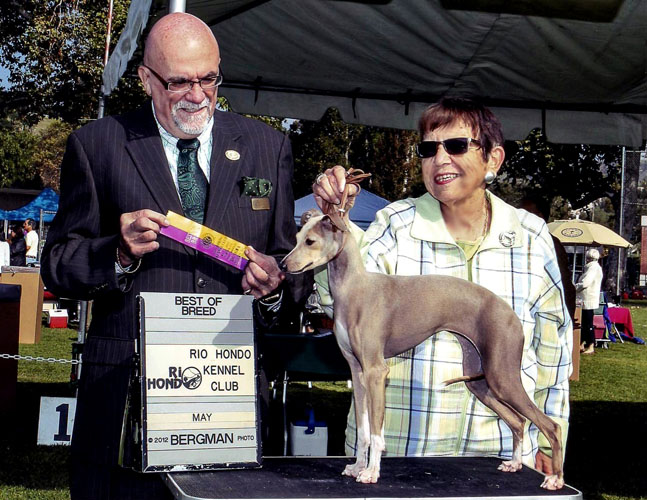 ---
PePa finished owner/handled by Lilian winning 4 Best of Breeds over Specials and 3 majors in top Southern California competition, all this before she reached 9 months of age. Before she finished, PePa was already a Top 20 IG (Breed Points) in the U.S., the only non-champion on this very competitive list. Thank you Mrs. Lydia Coleman Hutchinson: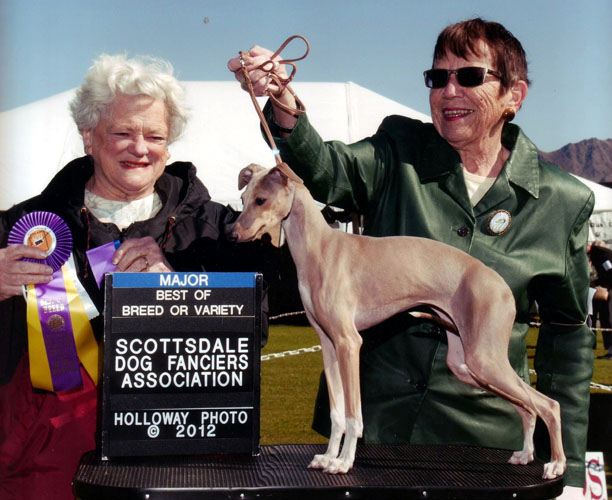 ---
Thank you judge Dr. Carolyn Hensley: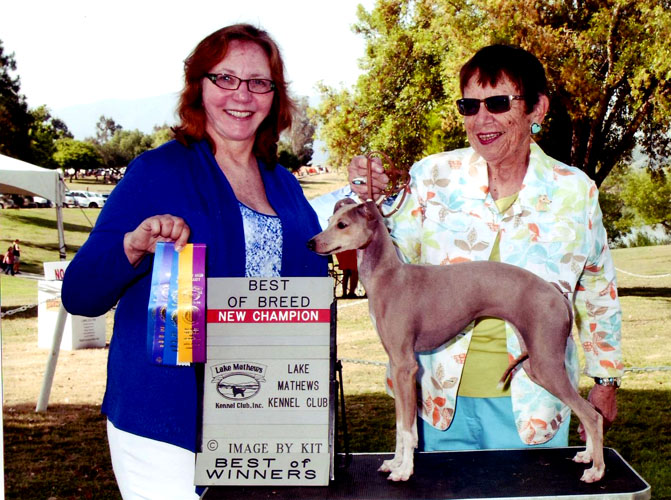 ---
Thank you judge Mrs. Charlotte Patterson: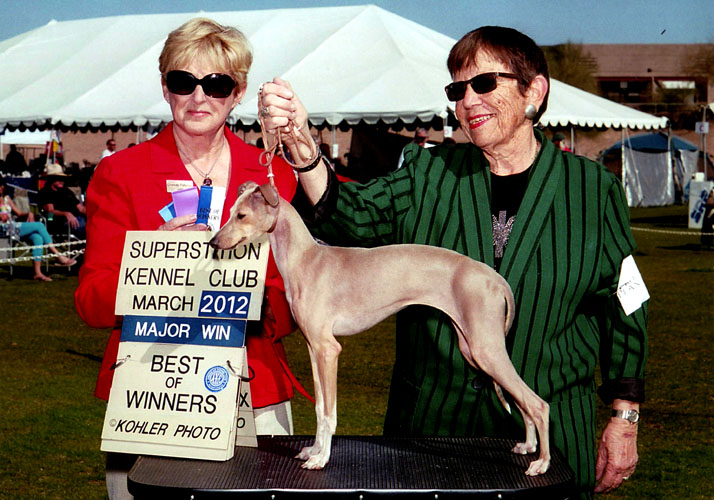 ---
Thank you judge Ms. Lori Nelson: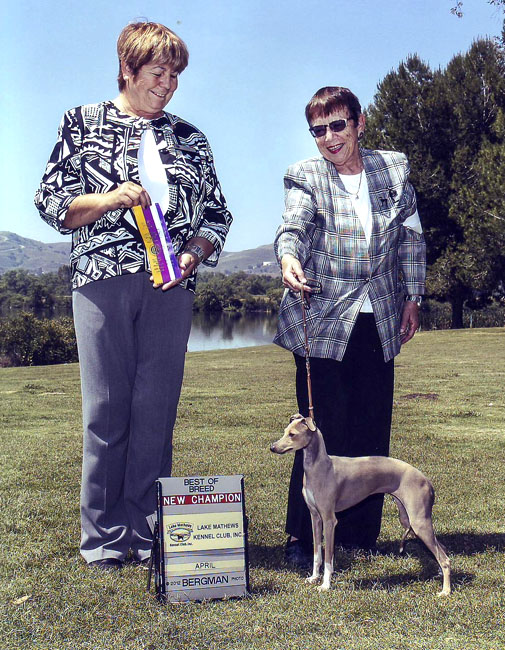 ---
Thank you judge Dr. Steve Keating: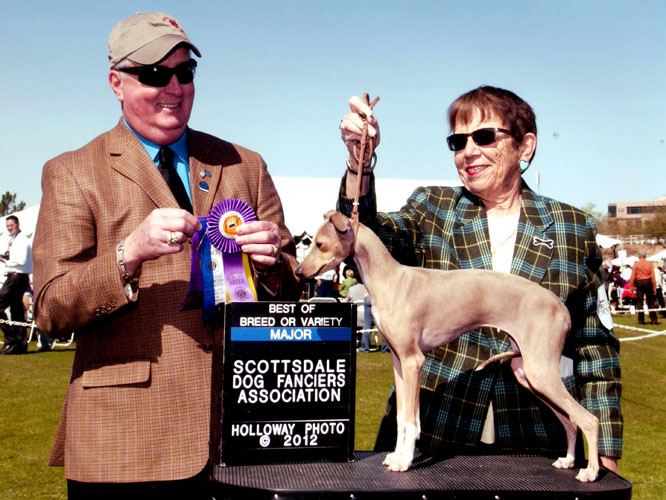 ---
Thank you judge Mrs. Robert (Polly) D. Smith: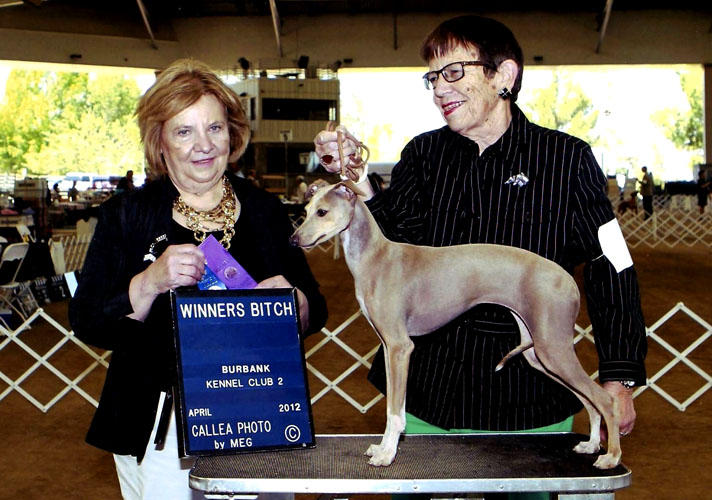 ---
The picture below was taken at the only time Pepa was shown in Brazil, and she not only finished her "Brazilian Puppy Champion" title, but also won Best Puppy in Show All Breeds (picture below). Our gratitude to judge José Arnaldo Medeiros, sighthound breeder, for this honor. PePa was shown by pro-handler Fernando Ortiz, who did a great job training and showing PePa to this great win.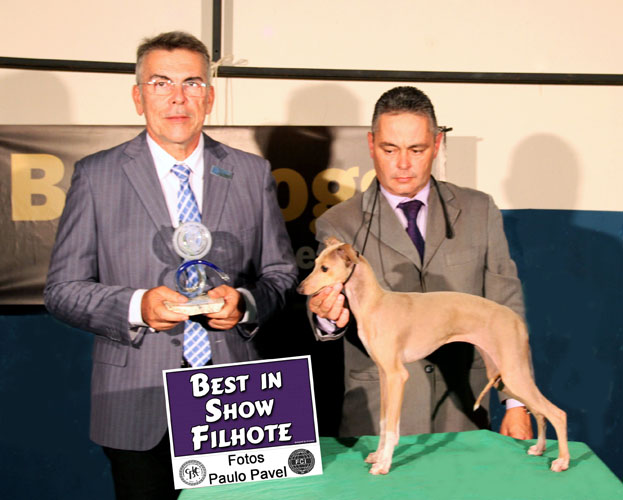 ---
The next picture is a ringside candid taken by pro-photographer Bibbo Camargo of Brazil.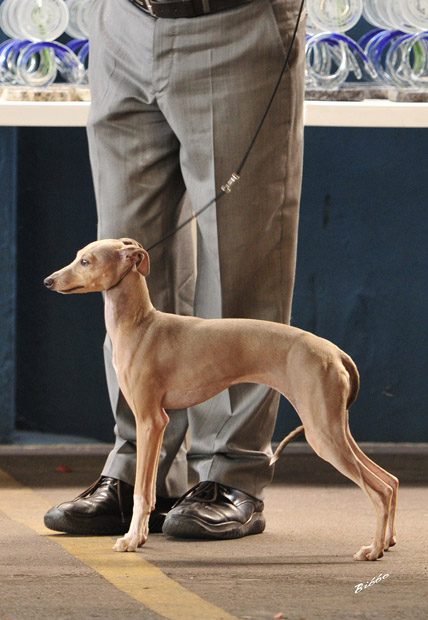 ---
This picture was taken by Roberto at home in Curitiba, Brazil, before PePa went to the US: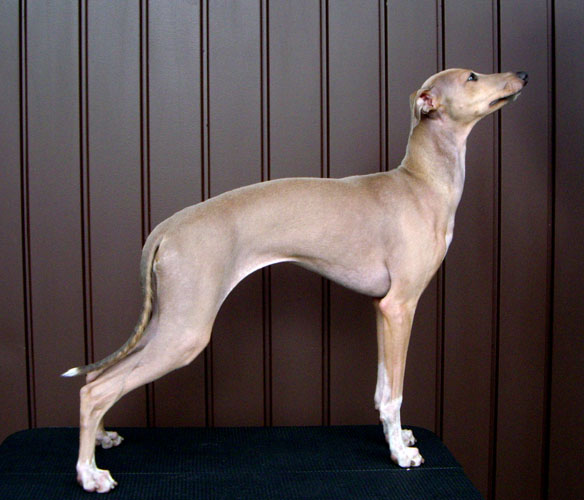 ---
PePa is owned and shown by Lilian S. Barber, La Scala IG's, California, U.S.A., and was bred and is co-owned by Elias P. Duarte Jr., Canil do Reino, Curitiba, Brazil.
<!**************************** SIRE *************************>
Ch. Petronius do Reino
Ch. La Scala Eribaldo do Condado, Top Producer
Ch. Pikop's Tic Toc Piaget
Ch. Sunjata's Wrangler Blues, Top Producer
Ch. Pikop's Crystal Illusion
Ch. Musica Proibita Di La Scala
Ch. La Scala Il Leone Di Tucker, Top Producer
Ch. Venere Splende Di La Scala
Ch. Riccio's Blue Magic D'Kalon, Top Producer
Ch. Sunjata's Wrangler Blues, Top Producer
Ch. Peachwood's Buttonfly Levi, Top Producer
Ch. Sunjata's Magie Noir
BISS Ch. Kalon's Heart Soul, Top Producer
Montrose L'Image Distant Thunder
Kalon's Moonlight Maiden
<!**************************** DAM *************************>
BIS Ch. Dorotka do BR Reino
Ch. Harlekin El Aakash
Ch. Pop Corn du Domaine de Chanteloup
Ch. Nuage D'Amour des Trois Pyramides
L'Etoile des Trois Pyramides
Ch. Zenobia El Aakash
Ch. Quirino El Aakash
Ch. Symphony El Aakash
Ch. Kinga do BR Reino
Ch. Lovesong Vico Di La Scala
Ch. Fox Hedge Flamboyant II, Top Producer
Ch. Aria D'Amore Di La Scala, Top Producer
Ch. Riccio's Blue Magic D'Kalon, Top Producer
Ch. Sunjata's Wrangler Blues, Top Producer
BISS Ch. Kalon's Heart Soul, Top Producer